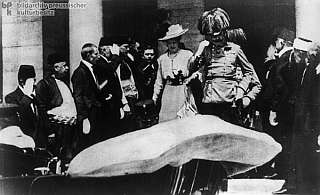 Franz Ferdinand and Sophie leave the Sarajevo Town Hall, five minutes before the assassination, 28 June 1914.
The Fateful Adventures of the Good Soldier Švejk is a novel with an unusually rich array of characters. In addition to the many who directly form part of the plot, a large number of fictive and real people (and animals) are mentioned; either through Švejk's anecdotes, the narrative or indirectly through words and expressions.
This web page contains short write-ups on the persons the novel refers to; from Napoléon in the introduction to captain Ságner in the last few lines of the unfinished Book Four. The list is sorted in to the order of which the names first appear. The chapter headlines are from Zenny K. Sadlon's recent translation and will in most cases differ from Cecil Parrott's version from 1973. In January 2014 there were still around twenty entries to be added.
The quotes in Czech are copied from the on-line version of the novel provided by

Jaroslav Šerák

and contain links to the relevant chapter
The tool-bar has links for direct access to Wikipedia, Google search and Švejk on-line
The names are colored according to their role in the novel, illustrated by the following examples: Doctor Grünstein who is directly involved in the plot, Heinrich Heine as a historical person, and Ferdinand Kokoška as an invented person. Note that a number of seemingly fictive characters are modelled after very real living persons. See for instance Lukáš and Wenzl.
I. In the rear

15. Catastrophe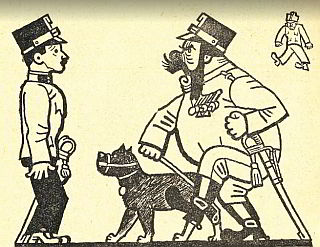 Kraus was a colonel at some barracks in Prague (presumably Karlín), he originated from the Salzburg area. He was the owner of the stolen dog Fox (who was named Max for the short period he belonged to Lukáš).
Kraus was a price idiot and also had plenty of other despicable characteristics. He was probably the most stupid of the many officers that are described in the novel. He had a habit of explaining the most obvious things, which drove his colleagues to insanity. Despite of all this he had advanced in the miltary hierarchy thanks to good connections, a fact the author uses to emphasise the rottenness of the Habsburg Empire.
After running into Lukáš who was promenading with Fox/Max, Kraus made sure that Lukáš and Švejk were sent to the front. This was an important turning point in the novel which from now on mostly uses military life as a backdrop to the plot.
Quote from the novel
[1.15] Plukovník Bedřich Kraus, mající též přídomek von Zillergut, po nějaké vesničce v Solnohradech, kterou jeho předkové prožrali již ve století osmnáctém, byl úctyhodným pitomcem. Když něco vypravoval, mluvil samé positivní věci, tázaje se při tom, zda všichni rozumějí nejprimitivnějším výrazům: "Tedy okno, pánové, ano. Víte, co je to okno?" Nebo: "Cesta, u které po obou stranách jsou příkopy, nazývá se silnicí. Ano, pánové. Víte, co je to příkop? Příkop jest vykopávka, na které pracuje více lidí. Jest to prohloubenina. Ano. Pracuje se motykami. Víte, co je to motyka?"
Also written:Bedřich Kraus von Zillergut cz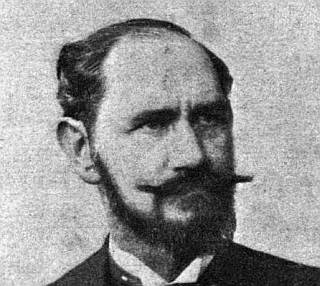 Mannlicher is indirectly referred to by the Mannlicher rifle, called manlicherovka in the novel. The theme here is colonel Kraus who was obsessed with this rifle and therefore got the nickname "Mannlicher idiot" (Manlichertrottel).
Background
Mannlicher was an Austrian inventor and small armaments designer. Mannlicher is still a brand name, primarily known for the hunting rifles made in Steyr under the name of Steyr-Mannlicher. His full name and title was Ferdinand Karl Adolf Joseph, Ritter von Mannlicher.
Mannlicher's guns is mention by Hašek already in 1902 in the story "Smrt Horala" (The death of Horal). It was published first in Národní listy on 8 April 1902 and also across the Atlantic in Národné noviny, Baltimore, on 3 May. This may be the first time ever a Hašek-story was printed outside the Czech lands.
Links
Quote from the novel
[1.15] Při přehlídkách pluku dával se do hovoru s vojáky a ptal se jich vždy jedno a totéž: "Proč se ručnici, zavedené ve vojsku, říká manlicherovka?" U pluku měl přezdívku "manlichertrottel". Byl neobyčejně mstivý, ničil podřízené důstojníky, když se mu nelíbili, a když se chtěli ženit, tu posílal nahoru velmi špatná doporučení jejich žádostí.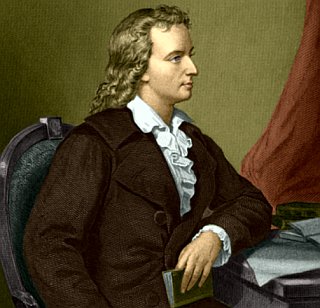 Schiller is mentioned because colonel Kraus passed idiotic remarks when his officer colleagues talked about Schiller at a banquet.
Background
Schiller was a world-famous German composer, poet, historian and philosopher. He belonged to the Romantic era and was strongly associated with Goethe and Weimar. His full name his was Johann Christoph Friedrich von Schiller.
Quote from the novel
[1.15] Týž spád řeči, táž zásoba největší naivnosti. Na jednom banketu v důstojnickém kasině plukovník Bedřich Kraus von Zillergut z čista jasna pronesl, když byla řeč o Schillerovi: "Tak jsem vám, pánové, včera viděl parní pluh hnaný lokomotivou. Považte si, pánové, lokomotivou, ale ne jednou, dvěma lokomotivami. Vidím kouř, jdu blíž, a ona to lokomotiva a na druhé straně druhá. Řekněte mně, pánové, není-liž to směšné? Dvě lokomotivy, jako by nestačila jedna."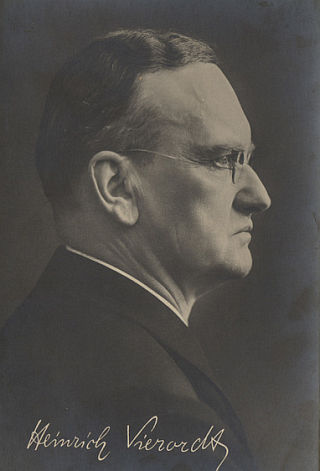 Arbeiterwille, 25.11.1914
Vierordt gets compared to colonel Kraus von Zillergut due to his grotesque poem "Deutschland, Hasse!" (Hate, Germany!), which is spiritually in line with the attitudes of the colonel.
Background
Vierordt was a local poet from Karlsruhe who wrote bloodthirsty poems during the war. The most infamous one, "Deutschland, Hasse!", is referred to by the author in the novel. It was even banned by the German General Staff.
The poem was published some time before 25 November 1914, and was reproduced by Arbeiterwille in 1914 and 1915. It was also published as the booklet Deutschland hasse! Kriegsruf by Verlag Müller & Gräff in 1914. The text published on the front page of the paper 25 November 1915 differs from what has been reproduced since then. On 22 April 1915 Arbeiterwille clearly distanced themselves from the poem. They might of course have done so already in November 1914, but as most of the surrounding text was removed by sensorship it is difficult to pass judgement on the context.
O Du Deutschland, jetzt hasse mit eisigem Blut,
Hinschlachte Millionen der teuflischen Brut,
Und türmten sich berghoch in Wolken hinein
Das rauchende Fleisch und das Menschengebein!

O du Deutschland, jetzt hasse geharnischt in Erz!
Jedem Feind ein Bajonettstoß ins Herz!
Nimm keinen gefangen! Mach jeden gleich stumm!
Schaff zur Wüste den Gürtel der Länder ringsum!

O du Deutschland, jetzt hasse! Im Zorn glüht das Heil,
Und zerspalt ihre Schädel mit Kolben und Beil.
Diese Räuber sind Bestien, sind Menschen ja nicht.
Mit der Faustkraft vollstrecke des Herrgotts Gericht.
Links
Quote from the novel
[1.15] Nebyl o nic horší než německý básník Vierordt, který zveřejnil za války verše, aby Německo nenávidělo a zabíjelo s železnou duší miliony francouzských ďáblů:


Ať až k oblakům nad hory 
hromadí se lidské kosti a kouřící se maso.
Kuneš was a bagmaker in Spálená ulice, described by Švejk when he tries to explain the dog theft to the furious Lukáš.
Quote from the novel
[1.15] Ve Spálený ulici je nějakej brašnář Kuneš a ten nemoh jít se psem na procházku, aby ho neztratil. Vobyčejně ho nechal někde v hospodě nebo mu ho někdo ukrad nebo si ho vypůjčil a nevrátil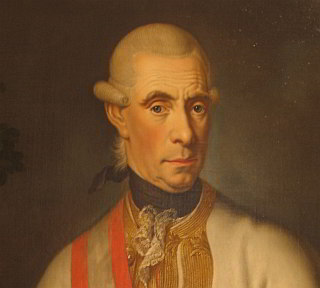 Laudon is mentioned indirectly through the powerful expression Himllaudon that Lukáš used when he verbally wiped the floor with Švejk after discovering that the dog was stolen. He is also mentioned in the in the final chapter when the author is describing colonel Gerbich.
Background
Laudon was an Austrian field marshal of Baltic origin, and one of the most successful commanders of the 18th century. He fought in the Seven Years' War, the War of the Bavarian Succession and the wars against Turkey.
Quote from the novel
[1.15] "Švejku, dobytku, himmellaudon, držte hubu! Buď jste takový rafinovaný ničema, nebo jste takový velbloud a blboun nejapný. Jste samý příklad, ale povídám vám, se mnou si nehrajte. Odkud jste přived toho psa? Jak jste k němu přišel? Víte, že patří našemu panu plukovníkovi, který si ho odvedl, když jsme se náhodou potkali? Víte, že je to světová ohromná ostuda? Tak řekněte pravdu, ukrad jste ho, nebo neukrad?"
Božetěch was a man from Košíře who specialized in stealing dogs and claimed reward on the basis of newspaper ads for the missing animals. Švejk found it appropriate to mention this for Lukáš in the midst of the severe reprimand he was subjected to after the lieutenant got to know that Max was stolen.
Quote from the novel
[1.15] Nějakej Božetěch z Košíř, ten se jen tak živil. Ukrad vždycky psa, pak hledal v inserátech, kdo se zaběh, a hned tam šel.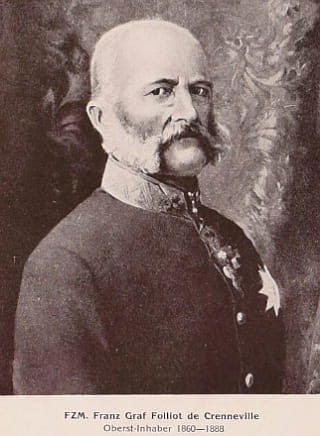 Folliot de Crenneville is mentioned in a song Švejk sings, he uses the name Grenevil.
Background
Folliot de Crenneville was an Austrian count and general from a renowned military family of French decent. He served in the Austrian army in Croatia, Italy and Bohemia and for a while he represented the Austrian military authorities at the Royal Court in Paris. He took part in the battle of Solferino where he was injured. Later in his career he was awarded the command of the 75th infantry regiment in Jindřichův Hradec.
Links
Source: Milan Hodík
Quote from the novel
[1.15] Nadporučík se odvrátil, vzdychl a uznal za vhodné místo se Švejkem obírat se raději bílou kávou.Švejk šukal již v kuchyni a nadporučík Lukáš slyšel zpěv Švejkův:


Mašíruje Grenevil
Prašnou bránou na špacír,
šavle se mu blejskají,
hezký holky plakají
I. In the rear

15. Catastrophe
---
<! -- content -->