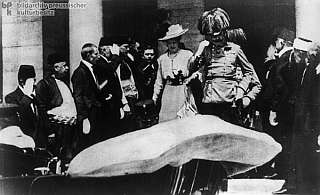 Franz Ferdinand and Sophie leave the Sarajevo Town Hall, five minutes before the assassination, 28 June 1914.
The Fateful Adventures of the Good Soldier Švejk is a novel with an unusually rich array of characters. In addition to the many who directly form part of the plot, a large number of fictive and real people (and animals) are mentioned; either through Švejk's anecdotes, the narrative or indirectly through words and expressions.
This web page contains short write-ups on the persons the novel refers to; from Napoléon in the introduction to captain Ságner in the last few lines of the unfinished Book Four. The list is sorted in to the order of which the names first appear. The chapter headlines are from Zenny K. Sadlon's recent translation and will in most cases differ from Cecil Parrott's version from 1973. In January 2014 there were still around twenty entries to be added.
The quotes in Czech are copied from the on-line version of the novel provided by

Jaroslav Šerák

and contain links to the relevant chapter
The tool-bar has links for direct access to Wikipedia, Google search and Švejk on-line
The names are colored according to their role in the novel, illustrated by the following examples: Doctor Grünstein who is directly involved in the plot, Heinrich Heine as a historical person, and Ferdinand Kokoška as an invented person. Note that a number of seemingly fictive characters are modelled after very real living persons. See for instance Lukáš and Wenzl.
IV. The famous thrashing continued

2. Spiritual consolation
Wurm was an obrlajtnant in Budějovice who Švejk told field chaplain Martinec about during spiritual consolation in the cell in Przemyśl. It was a very long anecdote about officer's apprentices who were neither officers nor rank and file soldiers, were not allowed to eat in any of the canteens as Wurm forbid them using the soldier's canteen.
Background
Wurm was a real person, actually a senior lieutenant in Budějovice, just as Švejk said. Jan Evangelista Eybl noted in his diary that Wurm commanded a march company that arrived at the front by Jaworzec on 16 March 1915. Timing-wise this indicates that they were part of the 7th march battalion. At the time IR91 Ersatzbattailon was still located in Budějovice, so it is very likely that Hašek knew Wurm, because the former served there from 17 February and the 7th march battalion probably departed around 8 March. Eybl also notes that Wurm was a nephew of Field Marshal Wenzel Wurm (he was mistaken regarding the rank: Wurm was in 1915 Feldzeugmeister).
Ranglisten und Schematismus
There is only single person on the list of officers (Ranglisten) from IR91 that fits the description Eybl gives. This person is Johann Wurm, born in 1884 in Prague. The list reveals that was promoted to captain on 1 July 1915 and thus his rank in March was senior lieutenant, just as Jan Evangelista Eybl noted. This was a rank he achieved on 1 November 1912 and he had served as lieutenant since 1 May 1907. In his early career he served in Feldjägerbataillon Nr. 7 and from 1907 in Feldjägerbataillon Nr. 22.
Police records
Any Johann Wurm born in 1884 is not listed in the Prague police records, but the details of a certain Hans Wurm fit well. The names Hans and Johann were to a degree interchangeable (Hans Bigler is another officer who appears with both names). Leutnant Wurm served with Infanterieregiment Nr. 75 in 1911 and he lived in Královské Vinohrady Hálkova tř. 379/12 (today Londýnská 379/73).
Before the war
With the help of press snippets it has been possible to piece together more details from Wurm's career. In 1909 he was involved in an incident in Jindřichův Hradec where he during a clash with a Sokol instructor drew his sabre and slashed his opponents hand. Several newspapers reveal that he was son of factory manager Josef Wurm, who managed a oven- and iron foundry in Podbořany (Podersam). The German press used the names Hans and Johann interchangeably although Johann was more common. The Czech press predominantly used Jan, although Hans also occurred.
Serving in IR91
During spring 1914 he was transferred from Infanterieregiment Nr. 75 to IR91 (1st battalion). After the outbreak of war he served with this battalion in Serbia where he was commander of the 4th company. Some time between 6th and 8 October 1915 he was wounded (shot in the foot). He was brought to hospital and was also awarded the Signum Laudis. According to a list of injured he was sent to a reserve hospital in Kroměříž (Kremsier). However on 7 February 1915 he appears in a celebration for decorated officers in Suché Vrbné (Dirnfellern) by Budějovice where the 7th March Battalion was located. It was noted Prager Tagblatt that he had been severely wounded but was still returning to the field.
Details from the rest of the war are only available in fragments. A brief note in Prager Tagblatt 21 November 1915 reveals that he was decorated for the second time for his endeavours on 24 September 1915. This was during the battle by Chorupan where Jaroslav Hašek, František Strašlipka, Emanuél Michálek and hundreds of their fellow soldiers from IR91 were captured.In 1916 he was decorated for the third time and he was still with IR91. So far we have no information about his activities from 1916 to 1921 (pending investigation of his army record).
Arrested as spy
In May 1921 Wurm entered the Czechoslovak army as staff captain at the Ministry of Defence (MNO) where he acted as a liaison officer with Parliament, serving German members. He was however arrested on 7 October 1922 as a suspected spy. During the same operation two other officers, Gustav Wolf and Georg Nowakowski had already been detained. The case was tried before a military court in December.
The trial
Court proceedings commenced on 11 December at 9 in the morning, and was conducted at the military court at Hradčany (see Vojenský soud). Parts of the trial were closed to the public. The prosecution provided a 24 page charge against the three, which roughly contained accusations of spying and treason. Wurm was accused of having passed on a restricted document against a reward of 3,000 crowns. The recipient was Jaroslav Philipp, a former k.u.k. officer and now an agent in Polish service. Wurm was also suspected of having passed on more restricted material to the named contact. Wurm was alleged to have been in contact with the convinced monarchist Philip already from the time he entered service in the Czechoslovak Army.
All in all 13 persons were called in to testify and provided 91 pages of witness accounts. Additionally experts on psychiatry, handwriting and photography testified. The first person to be interrogated was staff captain Wurm. During the questioning on 11 December he confessed to having passed sensitive material on to Philipp, but claimed to not have known what the recipient needed it for. He admitted to having accepted 3,000 crowns for the documents, as he found himself in a difficult financial situation.
The next day the proceeding concerned only Wolf and Nowakowski, but on 13 December Wurm's name is mentioned during interrogation of witnesses. It was said that "although he was of Czech origin he harboured German national political convictions". Another witness, a relative of Wurm, spoke about the accused as "power-mad, unsympathetic and not well liked, even amongst comrades". Other witness protocols describe him as a brutal and inconsiderate officer, particularly during his time in K.u.k. Heer, and primarily towards Czech soldiers. During the afternoon court proceedings on 13 December a psychiatric expert stated that "Wurm could be described as physically and spiritually degenerated" but it could not be concluded that he was (other had been) mentally ill. It was also revealed that Wolf's confession upon his arrest led directly to the detainment of Wurm.
Wurm's defender, major Řehák, argued for a complete aquittal. He stated that "it was inconceivable that Wurm would jeopardise his entire existence for such a small amount", that "Wurm was an accommodating person who acted under pressure from Philipp". The judge ought to consider the following mitigating circumstances: a hitherto spotless record, the difficult situation of the accused: financially and mentally, moreover the family. Wurm also held a final appeal where he wept and explained to hopeless situation he and his family found themselves in, and asked for a lenient verdict.
The verdict fell on 15 December and all the three accused were convicted. It was concluded that they all betrayed their country from financial and not national or political motives. Wurm was given a four and a half years under hard conditions: fasting once a month and a solitary cell the last month every half year. He was also deprived of his officer's rank and lost the right to vote during the term of his imprisonment. Wurm was sent to Terezín to serve his sentence. Nowakowski was given eight years and Wolf three.
Information from the press
Newspaper reports from the trial revealed further details about Jan Wurm (as he was called in Czech). He was born in Smíchov 22 March 1884, went to German schools, including Infanteriekadettenschule Prag. He enlisted in the army in 1904 after having served as a one-year volunteer. He declared himself with German nationality but spoke good Czech. He had three children who went to German schools. At the time of the court case the family lived in Dejvice in a flat belonging to his wife.
Venkov and Budweiser Zeitung confirm Eybl's information that he was nephew of Colonel General Wenzel Wurm. Venkov adds that the latter committed suicide (he died in Vienna 22 March 1921 but Lidové noviny and Innsbrucker Nachrichten wrote that he died from natural causes). Budweiser Zeitung astonishingly claims that Wurm was Czech, that his father and his famous uncle both were Czech chauvinists and hostile to Germans.
Registration sheet
The registration documents of his father finally sheds light on Wurm's background. He was son of Josef Wurm, born in Penzing by Vienna 17 March 1857. His mother was Karolina, born Schück in 1860. The parents married in 1881 and Johann Wurm was born on 22 March 1884 in Smíchov. He had one sister, Karolina, born in Prague 3 December 1882. His grandfather Josef was a k.u.k. Oberleutnant. The family moved to Nové Strašecí in 1892, and then to Podořany. Until then they had lived in Královské Vinohrady.
Unknown fate
What happened to Wurm after he was released from prison is not known. In the summer of 1932 it was reported that he attended a gathering of war veterans in Volary (Wallern). He was still alive in 1938, and spoke during a meeting of former front soldiers in Vimperk (Winterberg) on 13 or 14 August that year. Thus he would certainly have witnessed the annexation of Sudentenland a few months later. If he was still alive in 1945, he was surely expelled from Czechoslovakia.
The very latest mention of him that has been found so far is from Budweiser Zeitung in February 1940. Again it was a report from a gathering of war veterans (now under the umbrella of the Nazi party), but this time it wasn't any longer Wurm himself who spoke, but others who talked about him. This indicates that he may already have died.
Petr Novák
Links
Source: Petr Novák, Jan Evangelista Eybl, ÖSTA
Quote from the novel
[4.2] Měli jsme jich tam tenkrát pět a ze začátku vám to žralo v kantině samý syrečky, poněvadž mináž nikde nedostali, až tam na ně přišel takhle jednou obrlajtnant Wurm a zakázal jim to, poněvadž prej se to nesrovnává se ctí kadetštelfrtrérů, chodit do kantiny pro manšaft.
Gaudrsová was a woman who had been employed in a vinárna in Platnéřská ulice. She sued 18 men in a paternity case but ended up in Nový Jičín. This is mentioned by Švejk as an apropos to Martinec' birthplace.
Quote from the novel
[4.2] "To snad znali, pane feldkurát, nějakou Růženu Gaudrsovou, byla předloni zaměstnána v jedný vinárně v Platnéřský ulici v Praze a žalovala vám najednou osmnáct lidí pro paternitu, poněvadž se jí narodily dvojčata.
Faustýn was a friend of Švejk from the time he lived in Opatovická ulice. Faustýn was a hotel porter and could arrange all shades of female company. These are all facts that Martinec is made aware of.
Quote from the novel
[4.2] Když jsem bydlel v Opatovickej ulici, tak jsem tam měl jednoho kamaráda, Faustýna, vrátnýho z hotelu. Byl to moc hodnej člověk, spravedlivej a přičinlivej. Znal kdejakou holku z ulice, a mohli by přijít, pane feldkurát, kterejkoliv čas noční do hotelu k němu a říct mu jen: ,Pane Faustýne, potřebuju nějakou slečnu,' a von vám hned svědomitě se optal, jestli blondýnku, brunetu, menší, vyšší, tenkou, tlustou, Němkyni, Češku nebo židovku, svobodnou, rozvedenou nebo vdanou paničku, inteligentní nebo bez inteligence."
IV. The famous thrashing continued

2. Spiritual consolation
---
<! -- content -->