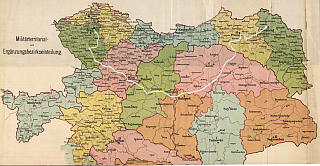 Map of Austria-Hungary in 1914 showing the military districts and Švejk's journey. The entire plot of the novel took place on the territory of the Dual Monarchy.
The Fateful Adventures of the Good Soldier Švejk is a novel which contains a wealth of geographical references - either directly through the plot, in dialogues or in the authors own observations. Jaroslav Hašek was himself unusually well travelled and had a photographic memory of geographical (and other) details. It is evident that he put great emphasis on this: 8 of the 27 chapter headlines in The Good Soldier Švejk contain place names.
This web site will in due course contain a full overview of all the geographical references in the novel; from Prague in the introduction to Klimontów in the unfinished Book Four. Countries, cities, towns, villages, mountains, oceans, lakes, rivers, islands, buildings are included. Note that from 14 September 2013, institutions (including pubs) have been moved to the new 'Institutions' page. The list is sorted according to the order in which the names appear through the novel. The chapter headlines are from Zenny Sadlon's recent translation and will in most cases differ from Cecil Parrott's translation from 1973.
The quotes in Czech are copied from the on-line version of The Good Soldier Švejk: provided by Jaroslav Šerák and contain links to the relevant chapter. The toolbar has links for direct access to Wikipedia, Google maps, Google search, svejkmuseum.cz and the novel on-line.
The names are coloured according to their role in the novel, illustrated by these examples: Sanok a location where the plot takes place, Dubno mentioned in the narrative, Zagreb part of a dialogue, and Pakoměřice mentioned in an anecdote.
I. In the rear

3. Švejk before the court physicians
Roman Empire is first mentioned at Zemský trestní soud when the author describes the prosecutors as "the 1914 versions of Pontius Pilatus". Later on the empire is mentioned by the pious field chaplain in [1.12], by the author again in [2.2] (see Gallic Sea) and also on several other occasions. Overall this surely reflects the author's interest in ancient history and history in general.
Background
Roman Empire was a civilisation that developed from the city state of Rome, founded on the Italian peninsula in the 8th century before Christ. Through its life span of 1200 years, the Roman civilisation changed from being a monarchy to a republic to become an empire. It came to dominate the western part of Europe and the area around Mediterranean Sea by conquest and integration. The empire collapsed through foreign invasions in the 5th century, known as the end of the Roman Empire and start of medieval times.
The Roman Empire left a lasting cultural legacy and is together with ancient Greece regarded the cradle of European civilisation. Formal remnants of the empire lasted until the age of Napoléon in guise of the Holy German-Roman Empire where several Habsburg rulers were nominal heads. Czech king Karel IV was also Roman Emperor.
Imperium Romanum fuit res publica antiqua, cuius caput erat Roma, olim maxima mundi occidentalis urbs, et quae tempore maximae suae potestatis a Britannia usque ad Mesopotamiam extensa est. Ab Augusto Caesare imperium Romanum sic institutum est, ut gubernare rem publicam uni principi solo sit.
Quote(s) from the novel
[1.3] Vracela se slavná historie římského panství nad Jerusalemem. Vězně vyváděli i představovali je před Piláty roku 1914tého dolů do přízemku.
[1.12] Zdálo se, že se vracejí doby pronásledování prvních křesťanů. Bývalý katecheta zpíval nějakou píseň mučedníků z římské arény a řval: "Věřím v pána boha, nezapřu ho. Nech si své víno! Mohu si sám pro ně poslat."
[2.2] Tam někde na severu u Galského moře, kam až se také dostaly římské legie Caesarovy bez mapy, řekly si jednou, že se zas vrátí a pomašírujou jinou cestou, aby ještě víc toho užily, do Říma.
[2.2] ,Nieder' zůstane ,nieder', i kdybyste se, bando, v tom blátě rozkrájeli. ,Nieder' bylo už ve starém Římě, tenkrát už museli všichni rukovat od sedmnácti do šedesáti let a sloužilo se třicet let v poli a neváleli se jako prasata v kasárnách. Byla tenkrát taky jednotná armádní řeč a velení. To by se na to byli páni římští důstojníci podívali, aby mužstvo mluvilo etrurisch.
Also written:Starověký Řím cz Römisches Reich de Impero romano it Imperium Romanum la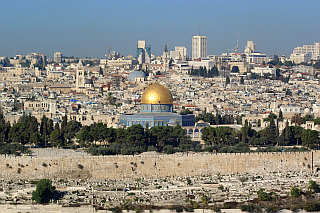 Jerusalem is mentioned by the author when he describes the staff of Zemský trestní soud as "1914's variation on Pontius Pilate".
Background
Jerusalem was at the time of Pontius Pilate capital of the Roman province of Judea.
Quote(s) from the novel
[1.3] Vracela se slavná historie římského panství nad Jerusalemem. Vězně vyváděli i představovali je před Piláty roku 1914 tého dolů do přízemku.
Also written:Jeruzalém cz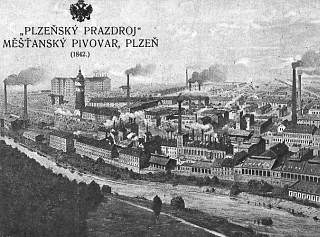 The Pilsner Urquell brewery in 1914
Plzeň is mentioned indirectly in connection with the Pilsner beer that the staff of Zemský trestní soud get from Teissig. Later in the novel the city's name appears again when Švejk mentions the execution of the gypsy gipsy Janeček.
In [2.2] the city is mentioned again because Toníček Mašků was called up for k.k. Landwehr there. In that case it would have been Landwehrinfanterieregiment Nr. 7.
Background
Plzeň was one of the most important industrial centres in Austria-Hungary. It was the monarchy's primary weapons forge and Škoda delivered the bulk of the heavy artillery to the army, and even supplied Germany.
The city is nowadays best known for having given name to the Pilsner beer that has been brewed since 1842 and has now become a somewhat imprecise term for pale, bottom-fermented beers. The best known brands that are made in the city today are Pilsner Urquell and Gambrinus.
Plzeň was in 1913 a city of 80,343 inhabitants of which more than 85 per cent registered as Czech nationals. It was the centre of the hetjmanství and okres of the same name. More than 1,000 military personnel were at the time stationed in Plzeň, which was also home of the 35th infantry regiment. The Pilsen hejtmanství counted 156,073 souls.
Hašek in Plzeň
Jaroslav Hašek visited Plzeň in summer 1913 together with Zdeněk Matěj Kuděj. The two writers sought out Karel Pelant, editor of the weekly Směr. He owed Hašek money for a couple of short stories but tried his best to avoid meeting the two. In the end they tricked him into appearing at U Salzmannů and the editor ended up paying the restaurant bill for his guests after an allmighty party.
The two stayed there for a couple of days and visited an impressive number of pubs. Plzeň was the final destination of a trip that had started in Prague and gone via Loděnice, Beroun, Nový Jáchymov, Rakovník, Ziroh and Rokycany. Most of it was done on foot and Kuděj describes the trip in his book Ve dvou se to lépe táhne (1923-24). Hašek mentions the editor in the story O upřímnem přátelství, albeit without mentioning his name (nor does Kuděj).
Quote(s) from the novel
[1.3] A vyšetřující soudcové, Piláti nové doby, místo aby si čestně myli ruce, posílali si pro papriku a plzeňské pivo k Teissigovi a odevzdávali nové a nové žaloby na státní návladnictví.
[2.2] "U nás byl taky jeden takovej nezbeda. Ten měl ject do Plzně k landvér, nějakej Toníček Mašků," povzdechla si babička, "von je vod mojí neteře příbuznej, a vodjel.
Sources: Radko Pytlík, Jaroslav Šerák, Z.M. Kuděj
Also written:Pilsen de
Literature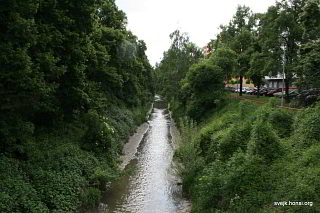 Botič is mentioned in the anecdote Švejk tells his cell-mates at Zemský trestní soud. He had been assaulted by a bridge over this stream in Nusle, having been mistaken for someone else.
Background
Botič is a stream in the south-eastern part of Prague. It ends in the Vltava by Vyšehrad after flowing through Vršovice and Nusle.
Quote(s) from the novel
[1.3] Jako jednou v Nuslích, právě u mostu přes Botič, přišel ke mně v noci jeden pán, když jsem se vracel od Banzetů, a praštil mě bejkovcem přes hlavu, a když jsem ležel na zemi, posvítil si na mne a povídá: ,Tohle je mejlka, to není von.'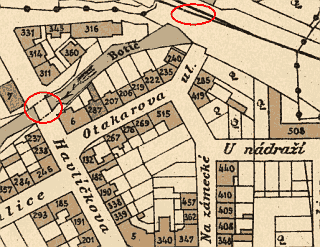 © Archiv Hlavního Města Prahy
Most přes Botič is mentioned in the anecdote Švejk tells his cell-mates at Zemský trestní soud. He had been assaulted by the bridge across Botič in Nusle.
Background
Most přes Botič was one of the bridges across Botič in Nusle. The main bridge for pedestrians was the one carrying Havlíčkova třída from Vinohrady to Nusle. This was also the bridge that was closest to the centre of the town.
Quote(s) from the novel
[1.3] Jako jednou v Nuslích, právě u mostu přes Botič, přišel ke mně v noci jeden pán, když jsem se vracel od Banzetů, a praštil mě bejkovcem přes hlavu, a když jsem ležel na zemi, posvítil si na mne a povídá: ,Tohle je mejlka, to není von.'
Also written:Bridge across Botič en Bru over Botič no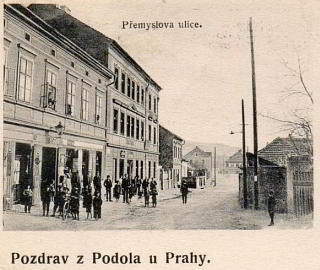 Podolí is mentioned is the same anecdote as U Bansethů and Botič, indirectly through the local church: Podolský kostelík.
Background
Podolí is since 1922 a district of Prague. It is located on the eastern bank of the Vltava between Vyšehrad to the north and Braník to the south. To the east is Pankrác and Nusle. Podolí was until 1922 administratively part of Vinohrady.
In 1913 it was a town of 4,038 inhabitants in hejtmanství Vinohrady, okres Nusle. All but 15 registered Czech as their native language.
Quote(s) from the novel
[1.3] Votevřel si klíčem podolskej kostelík, poněvadž myslel, že je doma, zul se v sakristii, poněvadž myslel, že je to u nich ta kuchyně, a lehl si na voltář, poněvadž myslel, že je doma v posteli, a dal na sebe nějaký ty dečky se svatými nápisy a pod hlavu evangelium a ještě jiný svěcený knihy, aby měl vysoko pod hlavou.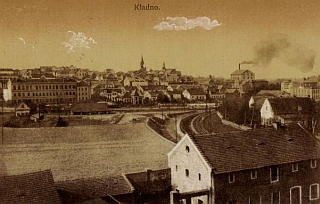 Kladno, 1920

Schematismus der k. k. Landwehr und der k. k. Gendarmerie 1910.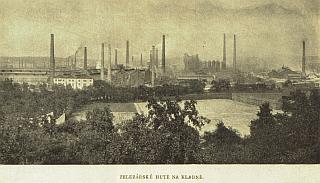 Světozor, 2.10.1908.
Kladno is partly a theme in Švejk's story about Rittmeister Rotter who trained his dogs on tramps. The same storz reappers during Švejk's stay at Švarcenberský ovčín but now it is told by a tramp.
Background
Kladno is an industrial city west of Prague and was a vital hub of the labour movement even under Austria-Hungary. It was from here that a failed Communist coup and general strike was organised in December 1920. Jaroslav Hašek was designed by Komintern to play a role in it but arrived a few days after the coup had been put down.
Rotter in Kladno
The mentioned Rittmeister Rotter actually served in Kladno as head of Gendarmerieabteilung Nr. 9 for a period in 1909 and 1910 and during he experimented with use of dogs in the police force. Curiously Josef Lada claims that he and Hašek visited Rotter in Kladno on 28 June 1914[a] but at the time Rotter had lived in Písek at least since 1911[b].
Demography, 1910
According to the 1910 census Kladno had 19369 inhabitants of which 18732 (96 per cent) reported Czech as their mother tongue. The judicial district was okres Kladno, administratively it reported to hejtmanství Kladno.
Military, 1914
With respect to military recruitment Kladno belonged to Heeresergänzungsbezirk Nr. 28 (Prag) and Landwehrergänzungsbezirk Nr. 8 (Prag). Local infantrymen would therefore usually serve with Infanterieregiment Nr. 28 or Landwehrinfanterieregiment Nr. 8.
* Ergänzungsbezirk: recruitment district.
Quote(s) from the novel
[1.3] Taky vám dám příklad, jak se na Kladně zmejlil jeden policejní pes, vlčák toho známého rytmistra Rottera.
[2.2] "Voní ho měli i dřív," ozval se vandrák, "já pamatuju, že na Kladně bejval četnickým rytmistrem nějakej pan Rotter.
Sources: Josef Lada
Literature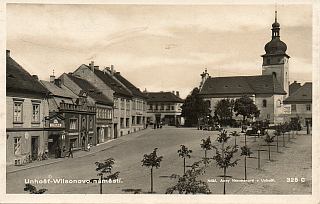 Unhošť
Kladensko is part of the anecdote about Rittmeister Rotter and his police dogs and the experiments with letting the dogs chase down tramps.
Background
Kladensko is the Czech name of the Kladno district west of Prague. Jaroslav Hašek visited the area on 28 June 1914 together with Josef Lada. See Kačák for more information.
Kladensko was probably a term that was synonymous with hejtmanství Kladno, a region counting 80,785 inhabitants distributed across the two judicial districts Kladno and Unhošť, totalling 45 local communities (1913)[a].
Quote(s) from the novel
[1.1.3] Taky vám dám příklad, jak se na Kladně zmejlil jeden policejní pes, vlčák toho známýho rytmistra Rottra. Rytmistr Rotter pěstoval ty psy a dělal pokusy s vandráky, až se Kladensku počali všichni vandráci vyhejbat.
[2.2] Tak dal rozkaz, aby četnictvo po celým Kladencku sbíralo houževnatě vandráky a dodávalo je přímo do jeho rukouch.
[2.2] Vzal jsem to k údolí Kačáku do lesů, do jedný rokle, a za půl hodiny byli už dva ty vlčáci u mne, povalili mne, a zatímco jeden mne držel za krk, ten druhej běžel do Kladna, a za hodinu přišel sám pan rytmistr Rotter ke mně s četníky, zavolal na psa a dal mně pětikorunu a povolení, že můžu po celý dva dny na Kladencku žebrat. Ale kdepak já, běžel jsem, jako když mně hlavu zapálí, na Berounsko a víckrát jsem se na Kladencku neukázal.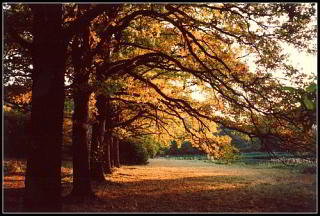 Lánské lesy is mentioned in the same story as Kladno, about police chief Rittmeister Rotter and his dogs.
Background
Lánské lesy is a forested area by Kladno, named after the nearby town of Lány. See Kladensko.
Quote(s) from the novel
[1.3] Tak mu přivedli jednou tak dost slušně ošaceného člověka, kterého našli v lánských lesích sedět na nějakém pařezu.
Also written:Laner Wäldern de Lány-skogane no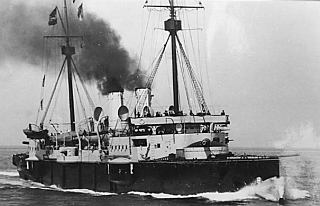 SMS Kaiserin Elisabeth
Pacific Ocean briefly enters the story when the commission of court doctors ask Švejk how deep the Pacific is at its deepest. In [3.3] the ocean is mentioned again in the anecdote about Koudela.
Background
Pacific Ocean is the largest of the world oceans and also the deepest ocean on earth. The point Švejk is asked about is the 10,911 metres deep Mariana Trench.
In 1914 fighting occurred in the Pacific Ocean and Germany was soon forced to abandon her colonies there, almost without bloodshed. At the outbreak of war, the German "Pacific Fleet" (Ostasiengeschwader) was ordered to sail home, but nearly all the ships were sunk on the way. Austria-Hungary had one vessel in the Pacific. SMS Kaiserin Elisabeth was sunk by its own crew on 2 November 1914 during the Japanese siege of the German navy base Tsingtao.
Quote(s) from the novel
[1.3] Soudní lékaři podívali se významně na sebe, nicméně jeden s nich dal ještě tuto otázku: "Neznáte nejvyšší hloubku v Tichém oceáně?" "To prosím neznám," zněla odpověď, "ale myslím, že rozhodně bude větší než pod vyšehradskou skálou na Vltavě."
Also written:Tichý Oceán cz Pazifische Ozean de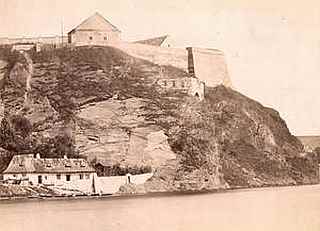 Vyšehrad enters the dialogue when Švejk answers the psychiatric commission that Pacific Ocean must be deeper than Vltava below Vyšehrad.
Background
Vyšehrad is the oldest part of Prague, known for the historic fortress. It is located on a rock by Vltava, between the current districts of Nové město and Nusle. The national cemetery is also located here.
In 1913 this city district was identical to the VI. district in the royal capital, officially called Královské Vyšehrad. The district had 5,252 inhabitants, and almost all of them were Czechs.
Quote(s) from the novel
[1.3] Soudní lékaři podívali se významně na sebe, nicméně jeden s nich dal ještě tuto otázku: "Neznáte nejvyšší hloubku v Tichém oceáně?" "To prosím neznám," zněla odpověď, "ale myslím, že rozhodně bude větší než pod vyšehradskou skálou na Vltavě."
Also written:Wyschehrad de
I. In the rear

3. Švejk before the court physicians
Fatal error
: Uncaught Error: Call to undefined method Util::lastupdate() in /var/www/honsi.org/public_html/svejk/app/php/util.php:356 Stack trace: #0 /var/www/honsi.org/public_html/svejk/index.php(101): Util::footer() #1 {main} thrown in
/var/www/honsi.org/public_html/svejk/app/php/util.php
on line
356