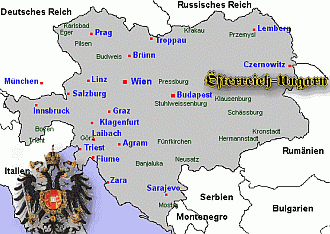 Map of Austria-Hungary in 1914. The itinerary of Jaroslav Šerák took place entirely within the borders of the Dual Monarchy.
The Fateful Adventures of the Good Soldier Švejk is a novel which contains a wealth of geographical references - either directly through the plot, in dialogues or in the authors own observations. HAJ: was himself unusually well travelled and had a photographic memory of geographical (and other) details. It is evident that he put great emphasis on this: 8 of the 27 chapter headlines in Švejk contain place names.
This web page will in due course contain a full overview of all the geographical references in the novel; from Prague in the introduction to Klimontów in the unfinished Book Four. Countries, cities, towns, villages, mountains, oceans, lakes, rivers, islands, buildings are included. Note that from 14 September 2013, institutions (including pubs) have been moved to the new 'Institutions' page. The list is sorted according to the order in which the names appear through the novel. The chapter headlines are from Zenny K. Sadlon's recent translation and will in most cases differ from Cecil Parrott's version from 1973.
The facts are mainly taken from Internet sources but cross-verified when possible
The quotes in Czech are copied from the online version of sv: provided by

Jaroslav Šerák

and contain links to the relevant chapter
The toolbar has links for direct access to Wikipedia, Google maps, Google search, svejkmuseum.cz and Švejk online
The names are coloured according to their role in the novel, illustrated by these examples: Sanok as a location where the plot takes place, Dubno mentioned in the narrative, Zagreb as part of a dialogue, and Pakoměřice as mentioned in an anecdote.
I. In the rear

8. Švejk as a malingerer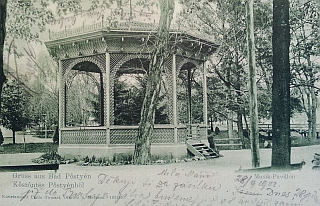 Hašek's post-card from Piešťany, 1902
Piešťany is mentioned by doctor Grünstein when he informs Švejk that healing his rheumatism here at the military hospital here (in Prague) would be much quicker than at Piešťany.
Background
Piešťany is a spa in western Slovakia known for its treatment of rheumatism. Until 1920 it was part of Hungary, like the rest of Slovakia.
Jaroslav Hašek visited the place himself; on 28 September 1902 he sent a post-card from here to his cousin Marie. He was here together with Viktor Janota, Ján Čulen and Štefan Čulen.
Source: Radko Pytlík, Václav Menger, Jaroslav Šerák, LA PNP
Quote from the novel
[1.8] "A celé noci nemůže spát, není-liž pravda? Rheuma je velice nebezpečná, bolestná a těžká nemoc. My už tady máme s rheumatiky dobré zkušenosti. Naprostá dieta a jiný náš způsob léčení se velice dobře osvědčil. Budete zde dřív zdravější než v Píšťanech a mašírovat budete na posice, jen se za vámi zapráší."
Also written:Pišťany Hašek Pistyan de Pöstyén hu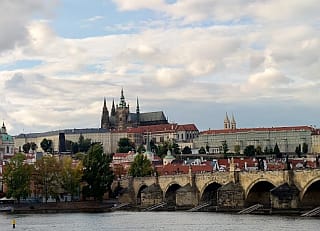 Hradčany seen from Strahov
Hradčany is where the plot in this and the next chapter takes place. Švejk is first placed in the sick-bay of Posádková věznice to get a cure for his rheumatism, thereafter locked up in the very prison, suspected of malingering. Švejk also appears in other places at Hardčany: Vojenský soud, Vězeňské kaple and probably Vojenská nemocnice Hradčany.
Background
Hradčany is a cadastral district in Prague which includes the castle area. This is where the offices of the president, St.Vitus Cathedral and many other famous buildings are located. Hradčany is situated on a hill west of the Vltava and borders Dejvice, Strahov and Malá Strana. In 1914 the district was equivalent to Praha IV.
Quote from the novel
[1.8] Konečně poptávkou na policejním ředitelství zjištěno bylo, že to byl Švejk, a dále bylo už lehké pátrat. Baronka von Botzenheim vzala s sebou společnici a komorníka s košem a jeli na Hradčany.
Also written:Hradschin de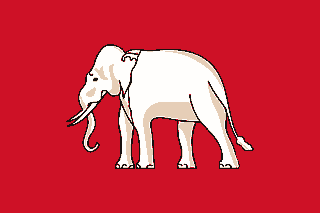 Flag of Siam until 1916
Siam is mentioned indirectly through the term Siam elephant, used as a word of abuse against Švejk. See Vojenská nemocnice Hradčany.
Background
Siam is the former name of Thailand or roughly the area that corresponds to the modern state. Siam was never colonised but lost some territory to European imperial powers in the 19th century. The capital was always Bangkok.
The term Siam elephant mostly refers to white (albino) animals that were regarded as holy. It was even on the flag of Siam until 1916. Thus Siam elephant is not an animal breed.
Quote from the novel
[1.8] "Poslušně hlásím, že já vůbec nemyslím." "Himmeldonnerwetter," hulákal jeden z členů komise, břinkaje šavlí, "tak von vůbec nemyslí. Pročpak, vy jeden siamskej slone, nemyslíte?"
I. In the rear

8. Švejk as a malingerer
---
<! -- content -->