The novel The Good Soldier Švejk refers to a number of institutions and firms, public as private. These have until 15 September 2013 been categorised as 'Places'. This only partly makes sense as this type of entity can not be always be accosiated with fixed geographical point, in the way that for instance cities, montains and rivers can. This new page contains military and civilian institutions (including army units, regiments etc), hotels, public houses, newspapers and magazines.
The line between this page and "Places" is blurred, but the idea with this section is to include entities that are not necessarily located on a fixed spot on earth. Therefore Prague and Vienna will still be found in the "Places" database, because these have constant co-ordinates. On the other hand institutions may change location: K.u.k. Heer and U kalicha are not unequivocal geographical terms so they will from now on appear on this page.
I. In the rear

4. They threw Švejk out of the madhouse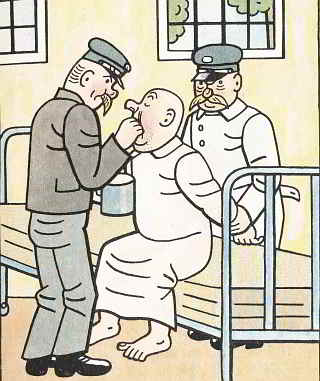 Blázinec is referred to when Švejk is led to the psychiatric ward after a commision of psychiatrists conclude that he is a "malingerer with a feeble mind". He might have spent several weeks here as he was only released on 29 July 1914, the day Austria-Hungary declared war on Serbia.
Background
Blázinec was a mental hospital in Prague which is not explicitely located. We can still by near certainty conclude that the author means Kateřinky, an institution where he himself spent a few days in February 1911.
Quote from the novel
[1.4] Když později Švejk líčil život v blázinci, činil tak způsobem neobyčejného chvalořečení: "Vopravdu nevím, proč se ti blázni zlobějí, když je tam drží. Člověk tam může lézt nahej po podlaze, vejt jako šakal, zuřit a kousat. Jestli by to člověk udělal někde na promenádě, tak by se lidi divili, ale tam to patří k něčemu prachvobyčejnýmu. Je tam taková svoboda, vo kterej se ani socialistům nikdy nezdálo.
Also written:The Madhouse en Das Irrenhaus de Galehuset no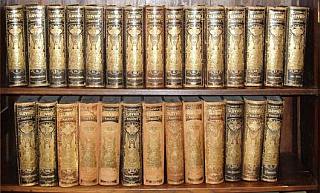 Ottův slovník naučný, 5. díl, 1892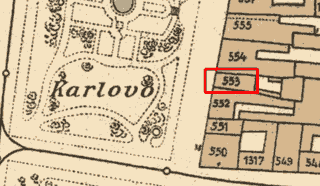 Ottův slovník naučný was mentioned in connection with the patient at Blázinec who claimed to be the 16th volume of this encyclopedia.
Background
Ottův slovník naučný is an encyclopaedia published by Otto that is regarded an outstanding work of reference also in an international context. A total of 28 volumes were released between 1888 and 1909 with additional supplements appearing thereafter. Otto's Encyclopaedia was at the time one of the largest in the world. The editorial offices were at Karlovo náměstí, in the building next to the publishing house of Otto.
Emil Artur Longen (1928) claims that Jaroslav Hašek made active use of the encyclopaedia when he wrote Švejk. He may well have a point as the long tirade recruit Pech used is almost a direct quote from the encyclopaedia.
The reference to kartonážní šička (cardboard stapler) can not be found in volume 16 (Lih-Media) and Antonín Měšťan also points out that there is no such entry in the encyclopaedia at all. If it had been a real entry it would have been found in volume 14. This volume does however have a reference to kartonáž that simply points to the entry cartonage in volume 5.
Antonín Měšťan
Durch einen Blick in den Ottův slovník naučný läßt sich leicht feststellen, daß das Stichwort "Kartonagenähgrin" nicht nur im 16. Band fehlt - es fehlt in diesem Lexikon überhaupt.
Links
Source: Antonín Měšťan, Emil Artur Longen
Quote from the novel
[1.4] Nejzuřivější byl jeden pán, kerej se vydával za 16. díl Ottova slovníku naučného a každého prosil, aby ho otevřel a našel heslo ,Kartonážní šička', jinak že je ztracenej.
Also written:Otto's encyclopaedia en Ottos Konversationslexicon de Ottos konversasjonsleksikon no
Královy lázně

Ul. Karoliny Světlé 195/43, Praha I

-

Zdeněk Uhlíř [1910]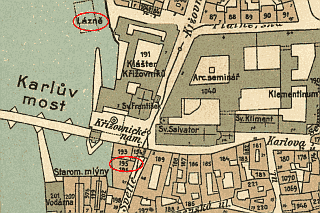 Map from 1914

Břetislav Hůla

Baedeker
Královy lázně is indirectly mentioned by Švejk when he in Blázinec is asked if he enjoys likes getting a bath. "It is better than at the baths by Charles Bridge", is the answer.
Background
Královy lázně was a public bath at the end of Karlův most and is listed on the address Karoliny Světlé 43, indicated on the map. This is confirmed by Baedeker Österreich 1913 that refers to them as Königsbad.
Some baths north of the bridge are also shown, called Gemeindebad (Municipal Bath). This was more likely an open-air bath and to judge by the description in the novel, Švejk is almost certainly talking about the more luxurious indoor Royal Baths.
Břetislav Hůla refers to the bath as Karlovy lázně (Charles' Bath) and this corresponds to the entry in the address book of 1936. It is not known when exactly the renaming took place.
Links
Source: Archiv Hlavního Města Prahy (Sbírka map a plánů)
Quote from the novel
[1.4] V koupelně ho potopili do vany s teplou vodou a pak ho vytáhli a postavili pod studenou sprchu. To s ním opakovali třikrát a pak se ho optali, jak se mu to líbí. Švejk řekl, že je to lepší než v těch lázních u Karlova mostu a že se velmi rád koupe.
Also written:Royal Bath en Königsbad de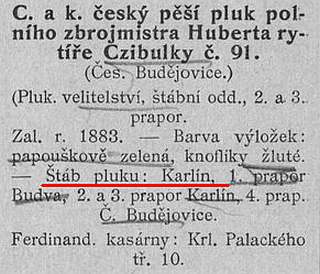 Regimentskanzlei IR91 is mentioned by Švejk when he tells the medical commission at Blázinec that he has been released from the army due to feeblemindedness. He adds that this can be confirmed at the Ergänzungskommando in Karlín or the regimental office in Budějovice.
Background
Regimentskanzlei IR91 (main regimental staff office) was in 1914 stationed in Karlín and not in Budějovice as Švejk claims. At the outbreak of war, several regimental functions were indeed located in Ferdinandova kasárna in Karlín: 2. og 3. field battalion, regimental staff and the IR91 regimental command itself. This inconsistency is probably due to a mix-up with the Ergänzungsbezirkskommando which together with the 4th battalion and IR91 Ersatzbattailon were indeed stationed in Budějovice.
We should also take into account that the barracks in Karlín were converted to a Red Cross reserve hospital soon after outbreak of war, and that the administrative functions of the regiment would have been moved, some of them no doubt to Budějovice, and others to the front. Another explanation is that Švejk has the offices of IR91 Ersatzbattailon in mind (these were located in Budějovice until May 1915). See Ergänzungskommando.
Links
Quote from the novel
[1.4] "Já, pánové," hájil se Švejk, "nejsem žádný simulant, já jsem opravdovej blbec, můžete se zpravit v kanceláři jednadevadesátýho pluku v Českých Budějovicích nebo na doplňovacím velitelství v Karlíně."
Also written:Regimental office en Plukové kancelář cz Regimentskontoret no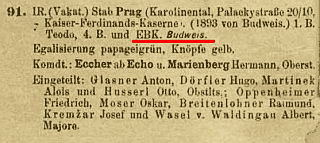 IR91, Seidels kleines Armeeschema August 1914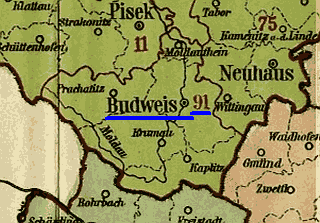 91. Ergänzungsbezirk
Ergänzungskommando is mentioned by Švejk when he tells the medical commission at Blázinec that he has been released from the army due to feeblemindedness. He adds that this can be confirmed at the reserve command in Karlín or the Regimentskanzlei IR91 in Budějovice.
Background
Ergänzungskommando probably refers to the Ergänzungsbezirkskommando Nr. 91. It was located in Budějovice and not in Karlín as Švejk says, but at the outbreak of war several other regimental functions were located at Ferdinandova kasárna in Karlín: 2. og 3. field battalion, regimental staff and the IR91 Regimentskommando itself. We may therefore be witnessing a straight mix-up between Regimentskanzlei IR91 and Ergänzungsbezirkskommando. Both are mentioned in the same sentence, so Švejk appears to have simply swapped the respective geographical locations.
The district reserve command No. 91 was resposible for draft and calll-up of reserves in Ergänzungsbezirk Budweis, see map. Major towns of the district were: Budějovice, Týn nad Vltavou, Kaplice, Krumlov and Prachatice. The army units that the command provided recruits for were IR91 and 14. Dragonerregiment.
Commander in 1914 was Jan Splichal but he was sent to the front soon after hostilities began, and it is not clear who replaced him. Splichal was also head of IR91 Ersatzbattailon and in this role he was replaced by Karl Schlager, so it may well be that the latter also took over as head of the district reserve command.
Links
Quote from the novel
[1.4] "Já, pánové," hájil se Švejk, "nejsem žádný simulant, já jsem opravdovej blbec, můžete se zpravit v kanceláři jednadevadesátýho pluku v Českých Budějovicích nebo na doplňovacím velitelství v Karlíně."
Also written:Reserve command en Doplňovací velitelství cz Reservekommando no

Politický kalendář, 1910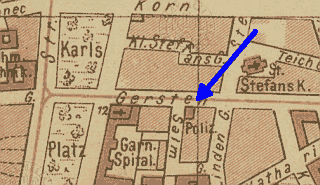 Plan von Prag und Umgebung, 1910
Zum Wortschatz des tschechischen Rotwelsch, Eugen Rippl, 1926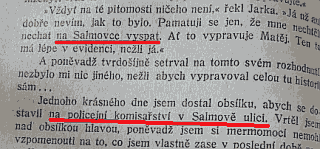 Z.M. Kuděj, "Ve dvou se to lépe táhne, I.", s.68, 1924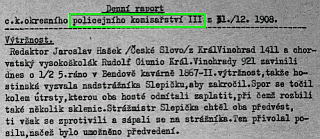 Denní raport - c.k. okresního policejního komisařství III.z. 31./12. 1908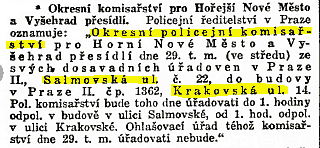 Československá republika, 26.6.1926
Policejní komisařství Salmova ulice is the scene of a full chapter in the novel. Švejk is taken straight here after refusing the leave Blázinec without lunch. His first encounter is with the brutal police inspector Braun but then the plot revolves mostly around a conversation with his fellow inmate, a very solid citizen who for the moment has slid off the path of virtue. Švejk does his utmost to convince him that his situation is hopeless.
The stay here was only one afternoon, and Švejk taken to the first floor for interrogation, this time by a fat and friendly police officer. Under escort he is led from the guard house (see Strážnice) on the ground floor onwards to Policejní ředitelství. It was on the way he read the emperor's declaration of war.
Background
Policejní komisařství Salmova ulice was the police station of the 3rd police district (Hořejší Nové Město - Upper New Town) in Prague, called "Salmovka" in common speech. It was located on the corner of Ječná ulice and Salmovská ulice. The police station was operating until 29 June 1926 when it was moved to Krakovská ulice where it is still located. The building was subsequently demolished and in 1928 the current edifice was erected on the site.
The station was often called "Salmovka" in day-to-day speech, a term used by e.g. Zdeněk Matěj Kuděj in one of his books about Jaroslav Hašek (Ve dvou se to lépe táhne, 1924). The term is also listed in a German-language dictionary of Czech slang (Eugen Rippl, 1926).
Chief inspector in 1906 and until 1910 was Karel Fahoun, and he was succeeded by Antonín Sklenička. No evidence has been found, in address books or elsewhere, that any Braun ever served here.
Hašek at Salmovská
This is a police station that Jaroslav Hašek knew well, because it within this police district he was born and grew up. Also in his adult life he for the most part lived within its jurisdiction. He was christened in Kostel sv. Štefána in the immediate vicinity and on several occasions he lived only a few steps away. It has also been claimed that the author was a personal friend of police chief Karel Fahoun and his family but Břetislav Hůla refutes this claim after consulting Fahoun's son.
Police records from 1902 to 1912 reveal that Jaroslav Hašek was brought to the station several times. Most of the cases refer to breaches of public order and small-scale vandalism, induced by drinking. On New Years eve 1908 he and Croat student (Rudolf Giunio) were arrested and locked up here after a pub brawl. The author was sentenced to five days in prison for his efforts. See Bendlovka for more information about this incident.
Links
Source: Břetislav Hůla, Sergey Soloukh, Jaroslav Šerák
Quote from the novel
[1.5] Švejk prohlásil, že když někoho vyhazují s blázince, že ho nesmějí vyhodit bez oběda. Výtržnosti učinil konec vrátným přivolaný policejní strážník, který Švejka předvedl na policejní komisařství do Salmovy ulice.
Also written:District police station No. 3 en Polizeikommisariat Nr. III de Bydelspolitistasjon Nr. 3 no
I. In the rear

4. They threw Švejk out of the madhouse
---
<! -- content -->