The novel The Good Soldier Švejk refers to a number of institutions and firms, public as private. These have until 15 September 2013 been categorised as 'Places'. This only partly makes sense as this type of entity can not be always be associated with fixed geographical point, in the way that for instance cities, mountains and rivers can. This new page contains military and civilian institutions (including army units, regiments etc.), hotels, public houses, newspapers and magazines.
The line between this page and "Places" is blurred, but the idea with this section is to include entities that are not necessarily located on a fixed spot on earth. Therefore Prague and Vienna will still be found in the "Places" database, because these have constant co-ordinates. On the other hand institutions may change location: Kriegsministerium and U kalicha are not unequivocal geographical terms so they will from now on appear on this page.
II. At the front

1. Švejk's mishaps on the train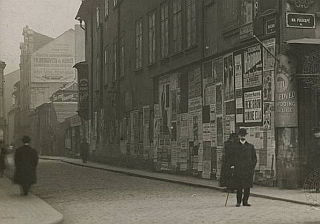 Nekázanka, 1907.
V čubčím háji is mentioned in an anecdote by Švejk when he tells Lukáš about Nechleba who always wants to do good but rarely succeeds.
Background
V čubčím háji was according to Švejk a pub in Nekázanka ulice but additional information is not available. In 1910 there were several public houses in this street.
External Links
Quote from the novel
[2.1] "Poslušně hlásím, že jsem to, pane obrlajtnant, pozoroval. Já má, jak se říká, vyvinutej pozorovací talent, když už je pozdě a něco se stane nepříjemnýho. Já mám takovou smůlu jako nějakej Nechleba z Nekázanky, který tam chodil do hospody ,V čubčím háji'.
Also written:The Bitches' Grove en Hündin im Hain de
Banka Slavia

Kožná ul. 1024/14, Praha I

-

Rosina Špirková [1912]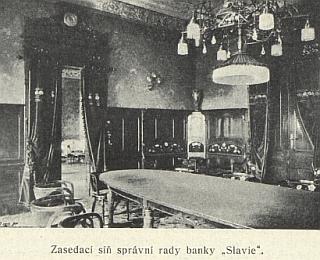 Rozkvět, 10.4.1910

Český Lloyd, 13.9.1902
Banka Slavia is mentioned on the train to Budějovice when Švejk asks general von Schwarzburg if he may happen to be Purkrábek, the representative of this bank.
Background
Banka Slavia was a bank ...
External Links
Quote from the novel
[2.1] "Dovolte, vašnosti, neráčíte být pan Purkrábek, zástupce banky Slavie?"
U Špírků

Kožná ul. 1024/14, Praha I

-

Rosina Špirková [1912]
U Špírků is mentioned on the train to Budějovice as Švejk loudly ponders the possible causes of loss of hair, and unfortunately quotes a medical student from U Špírků on this. The bald gentleman sitting opposite him is the feared Major General von Schwarzburg, who doesn't take lightly to Švejk's comments.
Background
U Špírků was a coffee-house in Staré město Prague's old town, also known as Praha I. in Prague which still exists albeit in a different setting. According to the restaurant's web site it was founded as early as 1870 and renovated in a traditional style between 2004 and 2006.
The café is not listed in the pre-war address books, but in 1891 the police registered a certain Karel Špirk, entered with cafetier as occupation. During the 1890's Špirk and his wife on several occasions placed adverts in Prager Tagblatt where they wishes their Jewish guests a Happy New Year. In the 1896 address book the café is entered under the name U dvou kominíků (At the two Chimneysweeps) with wife Rozalie Špirková as the owner.
In 1912 Národni listy reported that Karel Špirk had passed away and they also add that he was 54 years old, was a café owner and a proprietor of real estate. Špirk was according to the police books born 12 October 1858 in Prague so the connection to the café is indisputable. He was married to the ten year younger Roselie, and they had a daughter Anna who was born in 1887. Karel Špirk died on 9 May 1912 in Senohraby and was buried at Vyšehrad cemetery.
A newspaper notice in Právu Lidu from 1916 confirms that the café was still in business and that it was subjected to a police raid on suspicion of illegal prostitution (Tunel is mentioned in the same item). As late as 1929 adverts reveal that the establishment was still running, now officially using the name U Špírků. They hosted concerts, and served Prazdroj (Pilsner Urquell).
The owner in 1924 was Josef Baloun. In 1936 Marie Balounová was the owner. A picture from 1945 reveals that the establishment survived the Nazi protectorate. During the first republic U Špírků also functioned as an unofficial brothel (licensed brothels were banned in 1921).
Another "U Špírků"
From 1920 onwards another tavern carrying the name appears in newspaper adverts. It was located in Sokolská třída in Nové město Prague's new town, also known as Praha II. and is also a place the author surely would have known about as he frequented this part of the city a lot (see Apollo, Bendlovka and U kalicha). Newspaper adverts reveal that this U Špírků was often used for meetings. Although there is no trace of this café in pre-war address books, one shouldn't rule out "backdating" as Jaroslav Hašek at times added pieces of information to his novel that were chronologically at odds with the 1914/1915 plot. See Siedliska, Lokesch, Batěk for some examples.
External Links
Quote from the novel
[2.1] "A pokračoval neúprosně dál: "Potom říkal jednou jeden medik v kavárně "U Špírků", že padání vlasů zaviňuje duševní pohnutí v šestinedělí."
II. At the front

1. Švejk's mishaps on the train
---
<! -- content -->