The novel The Good Soldier Švejk refers to a number of institutions and firms, public as private. These have until 15 September 2013 been categorised as 'Places'. This only partly makes sense as this type of entity can not be always be associated with fixed geographical point, in the way that for instance cities, mountains and rivers can. This new page contains military and civilian institutions (including army units, regiments etc.), hotels, public houses, newspapers and magazines.
The line between this page and "Places" is blurred, but the idea with this section is to include entities that are not necessarily located on a fixed spot on earth. Therefore Prague and Vienna will still be found in the "Places" database, because these have constant co-ordinates. On the other hand institutions may change location: Kriegsministerium and U kalicha are not unequivocal geographical terms so they will from now on appear on this page.
II. At the front

1. Švejk's mishaps on the train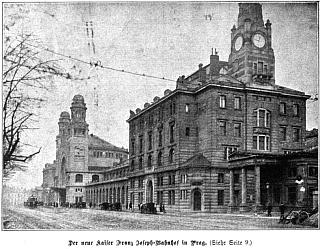 Wiener Bilder, 27.1.1909.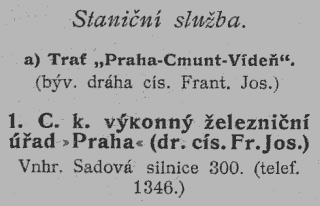 Nádraží císaře Františka Josefa (now Hlavní nádraží) is not mentioned explicitly but it is clear from the circumstances that Lukáš and Švejk set out on their journey from this station. The trip got off to a bad start as their luggage was stolen at the station, and as we know it was to get worse …
Background
Nádraží císaře Františka Josefa was until 1918 the name of the main railway station in Prague. It has since then also been called Wilsonovo nádraží after president Woodrow Wilson. Since 1953 it has been named Praha hlavní nádraží (Prague main station). The station was opened in 1871 and is by far the busiest railway station in the country.
In 1914 the station had remote connection with Vienna and it served a number of other destinations both locally and regionally. It was one of the three major railway stations in Prague, together with Státní nádraží (now Masarykovo) and Severozápadní nádraží (now demolished).
Quote from the novel
[2.1] "Poslušně hlásím, pane obrlajtnant," ozval se tiše Švejk, "doopravdy ho ukradli. Na nádraží se vždycky potlouká moc takových šizuňků a já si to představuju tak, že jednomu z nich se nepochybně zamlouval váš kufr a ten člověk že nepochybně využitkoval toho, jak jsem vodešel od zavazadel, abych vám vohlásil, že s našima zavazadlama je všechno v pořádku.
Also written:Emperor Franz Joseph Station en Kaiser-Franz-Joseph-Bahnhof de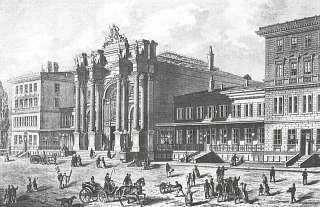 Venkov, 5.7.1912.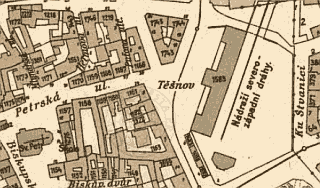 Orientační plán král. hl. města Prahy a obcí sousedních, 1910-1914.
Severozápadní nádraží is mentioned when Švejk explains Lukáš that theft at railway stations always occur. This was after their luggage had been stolen at the station they left Prague from, presumably Nádraží císaře Františka Josefa.
According to the soldier a theft took place here at the North West Station. A pram with a little girl was stolen and handed in at Švejk's local police station.
Background
Severozápadní nádraží was a major railway station in Prague, from 1953 called Praha-Těšnov. It was located in Florenc and was in service until 1972. (The building was demolished in 1985). It was from here Jaroslav Hašek took the train to Světlá nad Sázavou (on his way to Lipnice) on 25 August 1921.
In Prague it was the main hub of Österreichische Nordwestbahn, a private railway operator that was founded in 1868 and functioned until it was nationalised in 1909. The headquarters were located in Vienna. During Austria-Hungary the station served Vienna and Berlin, and several regional desitinations.
Attempts to find any mentioning of the episode with the stolen pram have been futile. If the soldier is to be believed the theft took place in 1912 and the child handed in at Policejní komisařství Salmova ulice (the police station closest to where we assume that Švejk lived).
It should also be noted that Jaroslav Hašek was a reporter on local affairs in České Slovo The main newspaper of the Czech National Social Party. for a period in 1912 and it can't be ruled out that he re-used one of his own reports (it has even been claimed that some of these were invented).
External Links
Quote from the novel
[2.1] Před dvěma léty na Severozápadním nádraží ukradli jedné paničce kočárek i s holčičkou v peřinách a byli tak šlechetní, že holčičku vodevzdali na policejním komisařství u nás v ulici, že prej ji našli pohozenou v průjezdě. Potom noviny udělaly z tý ubohý paní krkavčí matku."
Also written:North West Station en Nordwestbahnhof de Nordveststasjonen no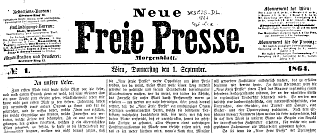 The front page of the first issue, 1.9.1864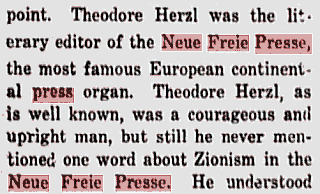 The Jewish Monitor, 29.10.1920
Neue Freie Presse is mentioned in connection with Švejk and Lukáš and their train journey to Budějovice. Opposite them in the compartment sat a completely bald man and red this paper. Later it became clear that this man was the notorious major general von Schwarzburg.
Background
Neue Freie Presse was a daily newspaper that was published in Vienna from 1864 to 1939, founded as a break-away from Die Presse. It published both a morning and an evening issue. It's political stance was bourgeois liberal, along the lines of e.g. Prager Tagblatt and Bohemia.
The newspaper eventually became very influential, led by the powerful editor in chief, Moritz Benedikt (1849-1920). It was also one of the largest of its kind in Austria, employing around 500, and the also enjoyed a reputation abroad. They were known for outstanding journalism and succeeded in enlisting writers like Theodor Herzl, Hugo von Hoffmannsthal, Bertha von Suttner and Stefan Zweig.
During World War I World wide armed conflict that took place from 1914 to 1918. Is the backdrop of the novel these web pages are dedicated to. they took an aggressive patriotic stance, but had also during the French-German war in 1870-71 shown a pro German tendency.
In the inter-war years the newspaper continued to publish but was closed by the Nazis in 1939. The paper always had many Jewish employees and Benedikt himself was of Jewish descent.
External Links
Quote from the novel
[2.1] "Dohromady nic, pane obrlajtnant," odpověděl Švejk, nespouštěje oči s lysé lebky civilisty sedícího naproti nadporučíkovi, který, jak se zdálo, nejevil pražádný zájem o celou záležitost a četl si "Neue Freie Presse", "v celým tom kufru bylo jen zrcadlo z pokoje a železnej věšák z předsíně, takže jsme vlastně neutrpěli žádný ztráty, poněvadž zrcadlo i věšák patřily panu domácímu."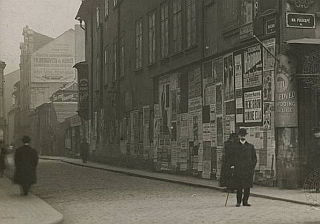 Nekázanka ulice, 1907.
V čubčím háji is mentioned in an anecdote by Švejk when he tells Lukáš about Nechleba who always wants to do good but rarely succeeds.
Background
V čubčím háji was according to Švejk a pub in Nekázanka ulice but additional information is not available. The name has surely been a colloquial term for and existing pub in the street or even a somewhere else. In 1910 there were several pubs here, where the best known was U zlatého křížku.
| | |
| --- | --- |
| Folta Josef | 858-II. Nekázanka 1 |
| Hýna Antonín "U zlatého křížku" | 880-II. Nekázanka 7 |
| Stejskal Karel | 879-II. Nekázanka 9 |
External Links
Quote from the novel
[2.1] "Poslušně hlásím, že jsem to, pane obrlajtnant, pozoroval. Já má, jak se říká, vyvinutej pozorovací talent, když už je pozdě a něco se stane nepříjemnýho. Já mám takovou smůlu jako nějakej Nechleba z Nekázanky, který tam chodil do hospody ,V čubčím háji'.
Also written:The Bitches' Grove en Hündin im Hain de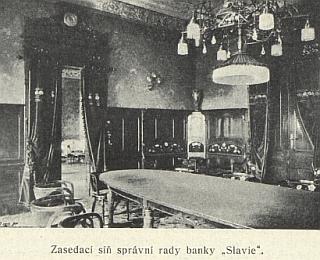 Rozkvět, 10.4.1910

Český Lloyd, 13.9.1902
Banka Slavia is mentioned on the train to Budějovice when Švejk in an innocent manner asks general von Schwarzburg if he may happen to be Purkrábek, the representative of this bank.
Background
Banka Slavia was a mutual insurance company (and bank) with headquarters at Havlíčkovo náměstí. The company was founded in 1868 by a group of businessmenn led by F. L. Chleborad. The first general assembly was held 14 May 1869. The company expanded quickly and by the turn of the century they were established in Prague, Brno, Vienna, Lwów, Zagreb and Lubljana. At the outbreak of war they were present also in Sarajevo.
The inter-war years saw the firm prosper even more and they were part owners of many foreign financial institutions, even as far as New York. They remained in business until 1945.
Hašek and Slavia
Jaroslav Hašek was employed as an apprentice by the bank from October 1902 until he was dismissed in June 1903. The reason was two longer absences without permission, the latest occurred 30 May 1903. Hašek disappeared without a trace and went off on a trip that may have lasted up to 4 months.
The author's family were strongly connected to Slavia: both his father Josef and his younger brother Bohuslav worked for the bank.
External Links
Source: Vojtěch Pojar, Radko Pytlík Prominent Czech literary historian (1928-), leading expert on Hašek, author of numerous books and articles about the author of Švejk. Considered the foremost authority on Hašek, his life and writing.
Quote from the novel
[2.1] "Dovolte, vašnosti, neráčíte být pan Purkrábek, zástupce banky Slavie?"
U Špírků is mentioned on the train to Budějovice as Švejk loudly ponders the possible causes of loss of hair, and unfortunately quotes a medical student from U Špírků on this. The bald gentleman sitting opposite him is the feared Major General von Schwarzburg, who doesn't take lightly to Švejk's comments.
Background
U Špírků was a coffee-house in Staré město Prague's old town, also known as Praha_I. in Prague which still exists albeit in a different setting. According to the restaurant's web site it was founded as early as 1870 and renovated in a traditional style between 2004 and 2006.
The café is not listed in the pre-war address books, but in 1891 the police registered a certain Karel Špirk, entered with cafetier as occupation. During the 1890's Špirk and his wife on several occasions placed adverts in Prager Tagblatt where they wishes their Jewish guests a Happy New Year. In the 1896 address book the café is entered under the name U dvou kominíků (At the two Chimneysweeps) with wife Rozalie Špirková as the owner.
In 1912 Národni listy reported that Karel Špirk had passed away and they also add that he was 54 years old, was a café owner and a proprietor of real estate. Špirk was according to the police books born 12 October 1858 in Prague so the connection to the café is indisputable. He was married to the ten year younger Roselie, and they had a daughter Anna who was born in 1887. Karel Špirk died on 9 May 1912 in Senohraby and was buried at Vyšehrad cemetery.
A newspaper notice in Právu Lidu from 1916 confirms that the café was still in business and that it was subjected to a police raid on suspicion of illegal prostitution (Tunel is mentioned in the same item). As late as 1929 adverts reveal that the establishment was still running, now officially using the name U Špírků. They hosted concerts, and served Prazdroj (Pilsner Urquell).
The owner in 1924 was Josef Baloun. In 1936 Marie Balounová was the owner. A picture from 1945 reveals that the establishment survived the Nazi protectorate. During the first republic U Špírků also functioned as an unofficial brothel (licensed brothels were banned in 1921).
Another "U Špírků"
From 1920 onwards another tavern carrying the name appears in newspaper adverts. It was located in Sokolská třída in Nové město Prague's new town, also known as Praha_II. and is also a place the author surely would have known about as he frequented this part of the city a lot (see Apollo, Bendlovka and U kalicha). Newspaper adverts reveal that this U Špírků was often used for meetings. Although there is no trace of this café in pre-war address books, one shouldn't rule out "backdating" as Jaroslav Hašek at times added pieces of information to his novel that were chronologically at odds with the 1914/1915 plot. See Siedliska, Lokesch, Batěk for some examples.
External Links
Quote from the novel
[2.1] "A pokračoval neúprosně dál: "Potom říkal jednou jeden medik v kavárně "U Špírků", že padání vlasů zaviňuje duševní pohnutí v šestinedělí."
II. At the front

1. Švejk's mishaps on the train
---
<! -- content -->