The novel The Good Soldier Švejk refers to a number of institutions and firms, public as private. These have until 15 September 2013 been categorised as 'Places'. This only partly makes sense as this type of entity can not be always be associated with fixed geographical point, in the way that for instance cities, mountains and rivers can. This new page contains military and civilian institutions (including army units, regiments etc.), hotels, public houses, newspapers and magazines.
The line between this page and "Places" is blurred, but the idea with this section is to include entities that are not necessarily located on a fixed spot on earth. Therefore Prague and Vienna will still be found in the "Places" database, because these have constant co-ordinates. On the other hand institutions may change location: Kriegsministerium and U kalicha are not unequivocal geographical terms so they will from now on appear on this page.
III. The famous thrashing

1. Across Magyaria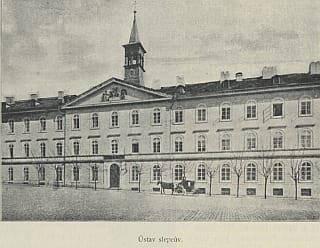 Klárův ústav slepců was the institution where the cook who replaced Jurajda in the officers mess at Királyhida hailed from.
Background
Klárův ústav slepců was from 1832 to 1945 an institute for the blind, now the location of Česká geologická služba (Czech Geology Service). The institute was founded by and is named after Alois Klar.
Quote from the novel
[3.1] Toto psaní bylo vynuceno okolnostmi, když kuchař okultista nadobro si rozlil ocet s plukovníkem Schröderem, který mu dosud držel palec, ale na kterého se při večeři na rozloučenou s důstojníky maršbatalionu opět, nešťastnou náhodou, nedostala porce rolované telecí ledviny, a plukovník Schröder ho poslal s marškumpačkou do pole, svěřiv důstojnickou kuchyni pluku nějakému nešťastnému učiteli z ústavu slepců na Klárově.
Also written:Klárov Institute of the Blind en Klárov Blindeinstitutt no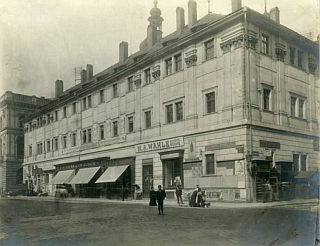 Průmyslová jednota in Prague is mentioned by Švejk because he once was refused admission in the reading room there due to his shabby appearance.
Background
Průmyslová jednota was an institution for promotion of technical education. It was founded in 1833 and was closed in 1950. The library and reading room in question was located in Rytířská ulice i Staré město Prague's old town, also known as Praha_I. .
Source: Milan Hodík Czech military historian (1933-), publisher of three books on Švejk, focussing on the backdrop. Best known is his two-volume encyclopaedia of explanations to themes is the novel. , Radko Pytlík Prominent Czech literary historian (1928-), leading expert on Hašek, author of numerous books and articles about the author of Švejk. Considered the foremost authority on Hašek, his life and writing.
Quote from the novel
[3.1] "Vo tom stěhování duší jsem už taky slyšel," ozval se Švejk. "Já jsem si také jednou umínil před léty, že se, jak se s vodpuštěním říká, sám budu vzdělávat, abych nezůstal pozadu, a chodil jsem do čítárny Průmyslové jednoty v Praze, ale poněvadž jsem byl roztrhanej a svítily mně díry na zadnici, tak jsem se nemoh vzdělávat, poněvadž mne tam nepustili a vyvedli ven, poněvadž myslili, že jsem šel krást zimníky.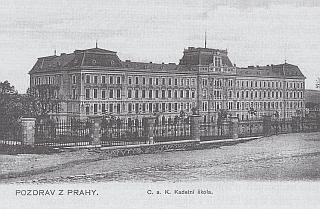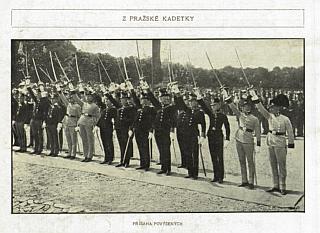 Český svět, 1913
K.u.k. Infanteriekadettenschule Prag is directly mentioned first time in the conversation Major General von Schwarzburg and Lukáš after the infamous episode on the train to Tábor. Here Lukáš is asked where he absolved Cadet School, and the answer is Prague. The school has already been indirectly mentioned in [1.14], when the author introduces Lukáš. In [3.1], at the station in Győr, it is revealed that Ságner and Lukáš were class-mates at the school.
Background
K.u.k. Infanteriekadettenschule Prag refers to an infantry cadet school in Prague which was opened in 1869 and was situated in the northern part of Hradčany from 1900. The building still exists and has had various functions since, and has also been used by Nazi and Soviet occupants. Today it houses the Czech Ministry of Defence.
The real life Čeněk Sagner actually attended this school (1901 - 1905) whereas another model, Rudolf Lukas did not. The courses lasted for four years and beside military education also provided general education.
External Links
Source: Milan Hodík Czech military historian (1933-), publisher of three books on Švejk, focussing on the backdrop. Best known is his two-volume encyclopaedia of explanations to themes is the novel.
Quote from the novel
[3.1] "Pane nadporučíku," řekl, "kde jste navštěvoval kadetní školu?" "V Praze." "Vy jste tedy chodil do kadetní školy a nevíte ani, že důstojník je zodpověden za svého podřízeného. To je pěkné.
Also written:Infantry Cadet School Prague en Pěchotní kadetní škola Praha cz Praha Infanterikadettskule no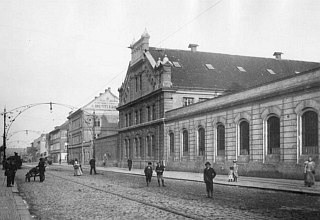 Daňkovka was the factory where the metal caster Adamec worked. This is in an anecdote Švejk tells Lukáš, but the latter cuts off.
Background
Daňkovka refers to the industrial group Breitfeld-Daněk a spol. that in 1927 was merged with Českomoravská-Kolben, a.s. to ČKD, a company that still exists. The Tatra tram is probably their best known product, still running in many of the former socialist countries. The first factory was located in Karlín and this is surely the one referred to by Švejk. See also Kristian.
Quote from the novel
[3.1] Nadporučík Lukáš mluvil takovým hlasem, jako by se o něho pokoušela horečka, a toho okamžiku, když umlkl, využitkoval Švejk k nevinné otázce: "Poslušně hlásím, pane obrlajtnant, za prominutí, proč se nikdy nedozvím, co jsem vyved hroznýho: Já, pane obrlajtnant, jsem se vopovážil na to zeptat jenom kvůli tomu, abych se příště mohl takový věci vystříhat, když se všeobecně povídá, že se vod chyby člověk učí, jako ten slejvač Adamec z Daňkovky, když se vomylem napil solný kyseliny..."
The front page of the first issue, 19.12.1914
Wiener Illustrierte Zeitung is mentioned when the author describes Biegler's dream. The landscape the cadet sees is as cut out of this magazine.
Background
Wiener Illustrierte Zeitung was an illustrated weekly that was published every Saturday. The first issue appeared on 19 December 1914. The magazine continued to the end of 1916, altogether 107 issues. In the address book of 1917 the paper is not listed. The emphasis was on pictures from the war, celebrities, and patriotic propaganda, and the photos were for that time of good quality.
The paper was published by Gesellschaft für grafische Industrie, located in the city district of Mariahilf (VI. Bezirk) near the centre of Vienna.
Vídeňské illustrované noviny
A Czech weekly with the same title was also published in Vienna. This is however an entirely different periodical and was published much longer, from 1906 to 1920.
External Links
Quote from the novel
[3.1] Krajina měla týž ráz jako na obrázcích "Wiener Illustrierte Zeitung". Po pravé straně bylo vidět u stodoly dělostřelectvo, jak střílí do nepřátelských zákopů vedle silnice, po které projížděl s automobilem.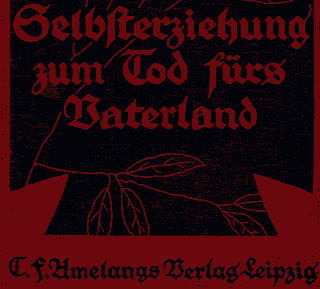 Leipziger Adreß-Buch, 1915
C.F. Amelang's Verlag is mentioned in a footnote by the author, as the publishing house in Leipzig that published the book Self Education for death for the Emperor by Kraft.
Background
C.F. Amelang's Verlag was a publishing house head-quartered in Leipzig. They specialised in school text books, pedagogy, and history of literature. The firm was founded by Carl Friedrich Amelang (1785–1856) in 1806, but by 1915 the ownership was no longer by the family.
Newspaper items from the early years indicate that they were established in Berlin as a bookshop, and traded from there until 1850 when they appear to have moved to Leipzig. In 1853 it seems that the ownership has been passed to a certain Fr. Volckmar, and Hans Volckmar is listed as co-proprietor in 1915.
From 1917 to 1924 they gradually merged with other publishers to become Koehler & Amelang GmbH, a company that still exists.
External Links
Quote from the novel
[3.1] Udo Kraft: Selbsterziehung zum Tod Für Kaiser. C.F. Amelang's Verlag, Leipzig.
III. The famous thrashing

1. Across Magyaria
---
<! -- content -->