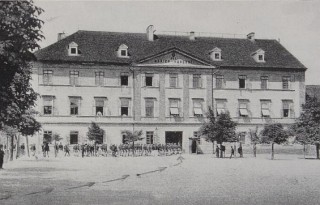 Mariánská kasárna in Budějovice (Budweis). Until 1 June 1915 it was the home of the Good Soldier Švejk's Infanterieregiment Nr. 91. In 1915 Jaroslav Hašek also served with the regiment in these barracks.
The novel The Good Soldier Švejk refers to a number of institutions and firms, public as well as private. On these pages they were until 15 September 2013 categorised as 'Places'. This only partly makes sense as this type of entity can not always be associated with fixed geographical points, in the way that for instance cities, mountains and rivers can. This new page contains military and civilian institutions (including army units, regiments etc.), organisations, hotels, public houses, newspapers and magazines.
The line between this page and "Places" is blurred, churches do for instance rarely change location, but are still included here. Therefore Prague and Vienna will still be found in the "Places" database, because these have constant coordinates. On the other hand institutions may change location: Odvodní komise and Bendlovka are not unequivocal geographical terms so they will from now on appear on this page.
The names are colour coded according to their role in the plot, illustrated by these examples: U kalicha as a location where the plot takes place, k.u.k. Kriegsministerium mentioned in the narrative, Pražské úřední listy as part of a dialogue, and Stoletá kavárna, mentioned in an anecdote.
I. In the rear

12. A religious debate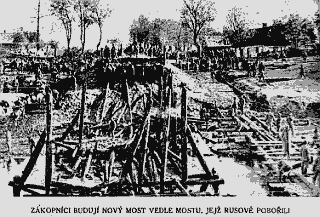 © VÚA


Zákopníci was mentioned when the author mentions that Švejk and Feldkurat Katz carried out yet another field mass, this time for the engineering troops.
Later in the novel the engineering troops are given a face through the aggressive and ill-temperred Sappeur Vodička.
Background
Zákopníci is a Czech term for military engineering troops, literally "trench-diggers". It indicates that their role was to dig trenches but their task went well beyond that, included the building of fortifications, temporary roads and bridges.
Pioniere versus Sappeure
In k.u.k. Heer the engineering units were from 1893 organised in 15 Pionierbataillone. From 1 October 1912 these forces were reorganised by reducing the number of pioneer battalions to 8 and creating 14 Sappeurbataillone. Their area of responsibility were largely overlapping so it is hard to say which branch Hašek had in mind. Translations also diverge. The two latest English translation (Zenny Sadlon and Cecil Parrott) both interpret it as Sapper whereas both German translations use the word Pionier. Both interpretations seem acceptable.
Engineering troops in Prague
Until 1912 Pionierbataillon Nr. 3 was stationed in Prague (Ferdinandová kasárna in Karlín). In connection with the reforms that year, the three battalions were tranferred to the newly formed Sappeurbataillon Nr. 3. Only the Ergänzungsbezirk remained in Karlín as the unit were relocated to Rovereto[a].
At the front
The author probably "transferred" Feldkurat Katz's field masses from the front so in this context it's hardly relevant that there were no engineering troops in Prague in 1914. That said he surely came across them at the front during the summer of 1915 so this sequence is probably inspired by these encounters (if they are fact-based at all).
One such occasion was 20 July 1915 when pioneer company no. 8 from Pionierbataillon Nr. 10 were to assist Infanterieregiment Nr. 91 and their sister regiments in building a bridge across Bug (see General Ritter von Herbert). The attempt was abandoned due to the flooding river and that very night the regiment was ordered to urgently march to Sokal.
The good soldier Švejk in captivity
In the short novel the term sapper is used once.[1]
Zdá se opravdu, že na něho počínalo účinkovat okolí. Při obědě podařilo se 'pánu jenerálu' pomocí jiného blázna propašovat Švejkovi psaní tohoto obsahu: "Ministerstvu námořnictví byl dán rozkaz, aby bylo pohotově kdykoliv přivézti z Asie 300 000 mužů. Povolávám do zbraně všechny výzvy. 60 000 vojska hnulo se na severovýchod. Sapéři pracují na okopech dělostřeleckých."
Quote(s) from the novel
[I.12] Švejk sloužil s polním kurátem ještě jednu polní mši u zákopníků, kam byl omylem pozván ještě jeden polní kurát, bývalý katecheta, neobyčejně nábožný člověk, dívající se na svého kolegu velice udiveně, když ten mu nabízel ze Švejkovy polní láhve, kterou ten vždy nosil na takové náboženské úkony s sebou, doušek koňaku.
[II.3] Vysvětlil mu všechno dopodrobna a Vodička prohlásil, že je starej sapér a že ho nemůže opustit, a že půjdou psaní odevzdat spolu.
[II.3] "Jednou ti už takovýho kluka maďarskýho držím za chřtán v Pausdorfě, kam jsme šli my saperáci na víno, a chci mu dát jednu überšvunkem přes kokos v tý tmě, poněvadž jsme hned, jak to začlo, praštili láhví do visací lampy, a von najednou začne křičet: ,Tondo, dyť to jsem já, Purkrábek, vod 16. landvér!`
[II.3] My saperáci jsme, když to do nás vjede, potvory. My nejsme jako ty železný mouchy.
Also written:Pioneers en Pioniere de Pionerar no
Literature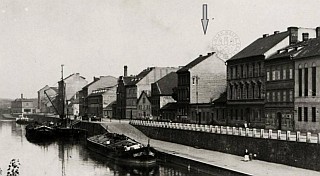 House No. 362 Zlatý věnec seen from Pobřezní třída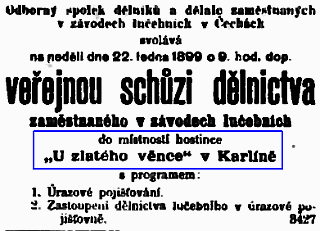 U zlatého věnce was mentioned when Švejk tells Feldkurat Katz that he dropped by and overheard a story about the man from Nová Paka who landed in trouble by handing back things he had found. This is, according to Švejk, a universally bad idea.
Background
U zlatého věnce refers to a tavern in Královská třída 59 named after the house Zlatý věnec (The Golden Wreath) in Pobřežní třída 30 that was attached to it from the back. In 1907 the owner of both buildings was Marie Holubová.
Newspaper adverts and minor notices from around the turn of the century show that there was a guest house here. The adverts announced meetings of a trade union and theatre performances so it was probably a spacious establishment. At the end of 1894 the Metal worker's trade union was founded here.
The landlord in 1892 and 1896 was Antonín Beran who already in 1884 is listed as owner of the house. In 1907 Marie Holubová is entered as owner of both house 161 and 362 but no hostelry is listed on the premises. In 1910 Josef Tichý is the landlord but in 1912 no pub is found at this address anymore.
It is not known when the tavern started operation, but it must have been before 1891. Nor do we know when the establishment closed its doors for good.
Quote(s) from the novel
[I.12] Včera jsem mluvil v hospodě ,U zlatého věnce' s jedním člověkem z venkova, je mu už šestapadesát let, a ten šel se optat na okresní hejtmanství do Nové Paky, proč mu rekvisírovali bryčku.
Sources: Jaroslav Šerák
Also written:The Golden Wreath en Zum Goldenen Kranz de
Literature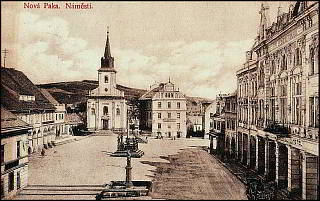 Seznam míst v království Českém, 1913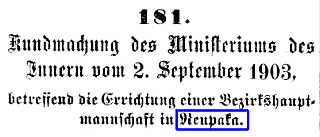 Reichsgesetzblatt, 2.9.1903
Okresní hejtmanství Nová Paka is mentioned by Švejk in anecdote he tells Feldkurat Katz. At U zlatého věnce he had spoken to a 56 year old man from the countryside who had gone to their offices to ask why his carriage had been requisitioned for war duty. Here he had been thrown out immediately.
Background
Okresní hejtmanství Nová Paka was the political administration of the Nová Paka district. It is not known exactly where the offices were located but it assumed that it was in the town centre. In 1913 the district's population number was 64,628 and consisted of the boroughs Hořice and Nová Paka. The district was relatively new, created on 1 October 1903 from areas that previously had belonged to okres Jičín and okres Pardubice.
Quote(s) from the novel
[I.12] Včera jsem mluvil v hospodě ,U zlatého věnce' s jedním člověkem z venkova, je mu už šestapadesát let, a ten šel se optat na okresní hejtmanství do Nové Paky, proč mu rekvisírovali bryčku.
Also written:Bezirkshauptmannschaft Neupaka de
Literature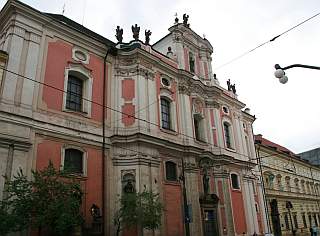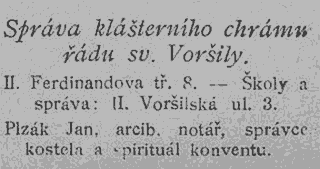 Uršulinky is mentioned in the anecdote about the holy water of Lourdes that caused a loose stomach. Sjå Vlašim for more details.
Background
Uršulinky is the good soldier's term for Klášter Voršilek, a monastery with adjoining church in at Národní třída in Prague, until 1918 Ferdinandová třída. It belongs to the Ursuline order, a catholic organisation that is mainly preoccupied with the education of girls. It derives its name from St. Ursula. From 1958 the building complex has been under heritage protection.
The monastery was built from 1674 to 1676 and also during the Habsburg reign it provided boarding and education for girls.
Quote(s) from the novel
[I.12] Vono by jich tam patřilo víc. U uršulinek mají v klášteře lahvičku s mlékem panny Marie, kterým kojila Ježíška, a v sirotčinci u Benešova, když jim tam přivezli lurdskou vodu, dostali po ní sirotkové takovou běhavku, že to svět neviděl."
Also written:Ursulinenkloster de Ursula-klosteret no U uršulinek Švejk
Literature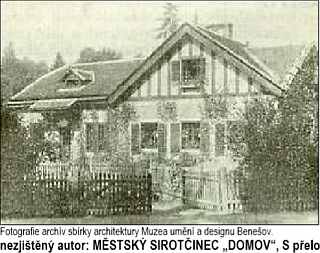 Sirotčinec u Benešova is mentioned when Švejk tells he pious field chaplain about the holy water from Lourdes that caused stomach trouble for the children at the nursery home.
Background
Sirotčinec u Benešova surely refers to the home for parentless children in Benešov, "Domov". It was built around the turn of the century, was owned by the town, and seems to have been located below Konopiště castle.
Quote(s) from the novel
[I.12] U uršulinek mají v klášteře lahvičku s mlékem Panny Marie, kterým kojila Ježíška, a v sirotčinci u Benešova, když jim tam přivezli lurdskou vodu, dostali po ní sirotkové takovou běhavku, že to svět neviděl."
Sources: Muzeum umění a designu Benešov
Literature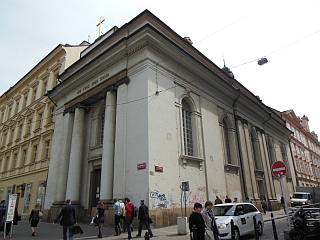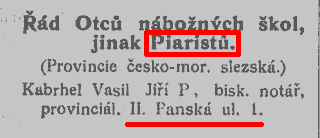 U Piaristů is mentioned by the pious (and drunk) field chaplain when he asks his colleague Feldkurat Katz if he doesn't believe that the thumb of John the Baptist is found in this church.
Background
U Piaristů is a colloquial term for Kostel svatého Kříže, a monastery with church and a school located at the corner of Na Příkopě og Panská ulice that until 1912 belonged to the Piarist order. They are a Catholic educational order founded in 1617 in is the oldest of its kind. Their main purpose is to provide free education for poor children.
The church which is built in a classical style was constructed between 1816 and 1824. Amongst those who studied here was Vrchlický.
After the introduction of a new school law in 1869 the state took over and one part became a gymnasium (German) and the other a teacher's institute. In 1912 the Piarists finally sold the building. Today the church is run by the catholic institute Society of St. Francis de Sales (Salesians of Don Bosco).
It was on the street corner by this church that Oberleutnant Lukáš was to meet a lady, when on a walk with the dog Fox, he unfortunately bumped into Oberst Kraus. We already know the end of that story.
Quote(s) from the novel
[I.12] Mžouraje očima, otázal se Katze: "Vy nevěříte v neposkvrněné početí panny Marie, nevěříte, že palec sv. Jana Křtitele, který se chrání u piaristů, je pravý? Věříte vůbec v pána boha? A když nevěříte, proč jste polním kurátem?"
Literature
I. In the rear

12. A religious debate
---
<! -- content -->