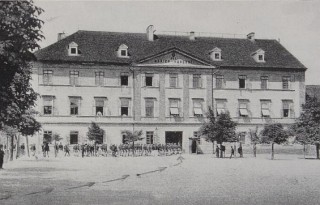 Mariánská kasárna in Budějovice (Budweis). Until 1 June 1915 it was the home of the Good Soldier Švejk's Infanterieregiment Nr. 91. In 1915 Jaroslav Hašek also served with the regiment in these barracks.
The novel The Good Soldier Švejk refers to a number of institutions and firms, public as well as private. On these pages they were until 15 September 2013 categorised as 'Places'. This only partly makes sense as this type of entity can not always be associated with fixed geographical points, in the way that for instance cities, mountains and rivers can. This new page contains military and civilian institutions (including army units, regiments etc.), organisations, hotels, public houses, newspapers and magazines.
The line between this page and "Places" is blurred, churches do for instance rarely change location, but are still included here. Therefore Prague and Vienna will still be found in the "Places" database, because these have constant coordinates. On the other hand institutions may change location: Odvodní komise and Bendlovka are not unequivocal geographical terms so they will from now on appear on this page.
The names are colour coded according to their role in the plot, illustrated by these examples: U kalicha as a location where the plot takes place, k.u.k. Kriegsministerium mentioned in the narrative, Pražské úřední listy as part of a dialogue, and Stoletá kavárna, mentioned in an anecdote.
III. The famous thrashing

4. Forward March!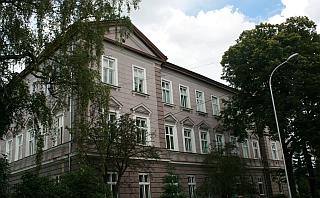 Gimnazjum w Sanoku was where the march battalion was meant to be lodged in Sanok. They stayed only for a few hours because the reserves of the German Hanover division soon laid claim to it.
Background
Gimnazjum w Sanoku is by many assumed to be Gimnazjum nr 2 im. Królowej Zofii, a gymnasium in the centre of Sanok which is still thriving. On the wall there is a yellow plaque commemorating Švejk and even indicating that he was here on 15 July 1915. The name of the gymnasium is not explicitly mentioned in the novel.
Mystification becoming reality
It is in any case prudent to take this information with a pinch of salt. IR 91's 12. march battalion with Jaroslav Hašek could hardly have set foot here, at least not under the circumstances described in the novel. In the unlikely event that they stopped in Sanok it would have been on 2nd or 3rd July and not the 15th. The author surely gathered inspiration from elsewhere, and the gymnasium in Sokal is the only similar institution where the regiment during Hašek's service is known to have been lodged. There could of course have been others but Sanok was definitely not one of them.
Quote(s) from the novel
[III.4] U slečny Elly byl pan poručík Dub, který, když maršbatalion byl už ve svých ubikacích v gymnasiu, zavolal si celý svůj šik a upozorňoval jej v dlouhé řeči, že Rusové při svém ústupu zakládali všude bordely s personálem pohlavně nakaženým, aby způsobili rakouské armádě tímto svým trikem velké ztráty.
Also written:Gymnasium in Sanok en Gymnas in Sanok de Gymnas i Sanok no
Literature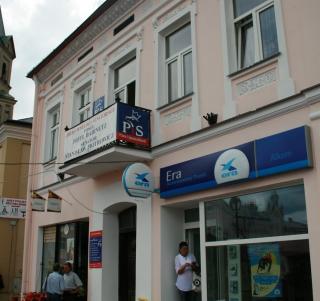 Bank Krakowski was the headquarters of the Eiserne Brigade (Iron Brigade) staff but these also had be evacuated for the benefit of the reserves of the Hanover division.
Background
Bank Krakowski was a reportedly bank at the Sanok town square (Rynek) but the information is not very solid. The building still exists but now (2010) it has other uses.
Quote(s) from the novel
[III.4] Plukovník reserv hanoverské divise ukazoval totiž disposice svého štábu, že má ubytovat své mužstvo v gymnasiu, kde právě nyní byli ubytováni jednadevadesátníci. Pro umístění svého štábu žádal vyklizení domu krakovské banky, ve kterém právě byl štáb brigády.
Also written:Krakovská Banka cz
Literature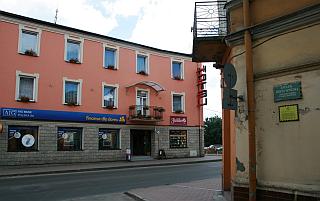 Kawiarnia Miejska was the café/brothel in Sanok that Leutnant Dub inspected so throurougly that Švejk had to go and grab him so he could take part in the trip onwards. Švejk here showed that he could be forceful and decisive.
Background
Kawiarnia Miejska is said to have existed and is claimed still be functioning as Hotel Pod Trzema Różami (Under the three Roses). At present (2010) it is a normal decent hotel with a restaurant/pizzeria attached. It should be added that Jaroslav Hašek and IR 91 never passed through Sanok so the inspiration must be looked for somewhere else.
Quote(s) from the novel
[III.4] "Spojené zábavní místnosti a městská kavárna", podnik, o kterém se Švejk zmiňoval, byly rozděleny také na dvě části. Kdo nechtěl jít přes kavárnu, šel zadem, kde se vyhřívala na slunci nějaká stará paní, která mluvila německy, polsky a maďarsky asi v tomto smyslu: "Pojďte, vojáčku, máme zde pěkné slečinky."
Also written:City Café en Městská kavárna cz Bykaféen no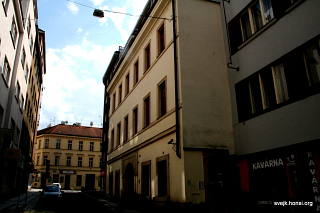 The building in 2011.
U Kocanů is mentioned in the angry letter from Božena that Švejk tells Oberleutnant Lukáš about on the march from Sanok.
Background
U Kocanů was a dance restaurant which according to Egon Erwin Kisch was identical to U města Slaného in Nové město. The unofficial name U Kocanů is taken from the former owner Karel Kocan who had sold the place some time before 1910. Kisch noted that the owner was Herr W. Kocourek, and this was definitely the case in 1910. He was even listed in the address book from 1936.
U města Slaného was one of eleven establishment soldiers from the garrison in Prague were forbidden to enter.
Quote(s) from the novel
[III.4] Pan kaprál Kříž přijel do Prahy na urláb a já jsem s ním tančila ,U Kocanů', a von mně povídal, že prej ty tancuješ v Budějovicích ,U zelený žáby' s nějakou pitomou flundrou a že jsi mě už úplně vopustil.
Sources: Milan Hodík, Hans-Peter Laqueur
Also written:Zum Stadt Schlan de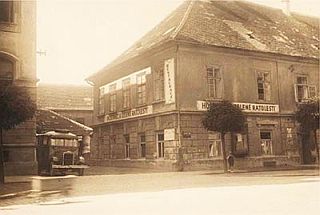 U zelené ratolesti
U zelené žáby is mentioned in the angry letter from Božena to Švejk. She had been informed by Korporal Kříž that Švejk had danced with a silly tart here. All this is revealed when Švejk empties his heart to Oberleutnant Lukáš during the march from Sanok.
Background
U zelené žáby was a pub in Budějovice that remains unidentified and surely never existed under this name. Božena probably mixed up U zelené ratolesti (At the green Wig) and U žaby (At the Frog).
The former was a coaching inn at Říšská třída (now Husová) next to Mariánská kasárna. It also arranged dancing and this fits well with the description in the novel. The building is still in use as a restaurant and pension and the name is the same.
U žaby was in 2015 a café at Piaristické náměstí, probably named after a stone frog on the façade of the church opposite. The name has surely been used as a name by inns at the square also in 1915, although this has not been verified.
Č. Beránek
Myslím že hospoda "U zelené žáby" byla buď na Piaristickém náměstí, kde je to tradiční název (podle místní pověsti o žábě a konci světa) a i dnes jsou tam dva podniky "U žáby", druhou (dle mne pravděpodobnější) je možnost, že Hašek když psal román si to popletl, kousek od kasáren 91IR (tak 100m) je hostinec "U zelené ratolesti" což byl známý hostinec už od počátku 19. století, byl a je dodnes velký s prostory pro tančírnu a pokoji.
Quote(s) from the novel
[III.4] Pan kaprál Kříž přijel do Prahy na urláb a já jsem s ním tančila ,U Kocanů', a von mně povídal, že prej ty tancuješ v Budějovicích ,U zelený žáby' s nějakou pitomou flundrou a že jsi mě už úplně vopustil.
Sources: Jaroslav Šerák, Č. Beránek
Also written:The Green Frog en Den grøne frosk no
Literature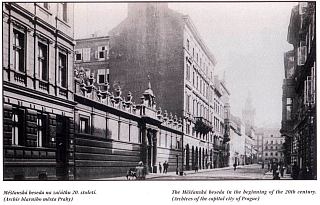 Beseda is mentioned by Švejk when he tells Oberleutnant Lukáš how unlucky he has been with the ladies.
Background
Beseda surely refers to Měšťanská beseda in Praha II.. The institution existed from 1845 until 1952 and the associated restaurant was in 1891 listed as belonging to Gustav Stejskal. The building has from 2008 hosted a four-star hotel.
Quote(s) from the novel
[III.4] To se ví, že se všichni smáli a její matinka, která ji tam hlídala, že ji vodvedla na chodbu v ,Besedě' a že tu svou blbou nánu zkopala.
Also written:Burghers' Club Sadlon
Literature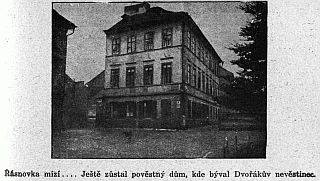 "Konec bahna Prahy", K.L. Kukla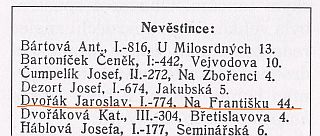 Source: Milan Hodík.
U Dvořáků was one of the brothels the tin-smith tinsmith Pimpra often ended up at when he went out to buy sheet metal. This is an anecdote Švejk appropriately tells Leutnant Dub after the latters escapades in a similar establishment in Sanok.
Background
U Dvořáků was a brothel in Staré město (Radko Pytlík). Milan Hodik underpins this information by providing a list of brothels from Chytilův adresář 1913. It contains two entries with Dvořák as proprietor, but Jaroslav Dvořák is by far more likely, because the other address is in Malá Strana, and this story about tinsmith Pimpra is clearly set in SME.
Quote(s) from the novel
[III.4] Ale to byl asi nějakej vomyl. Klempíře Pimpra z Kozího plácku taky vždycky hledali, když šel kupovat plech do města, a našli ho také vždycky v podobnej místnosti, buď u ,Šuhů', nebo u ,Dvořáků', jako já vás našel.
Sources: K.L. Kukla, Milan Hodík
Literature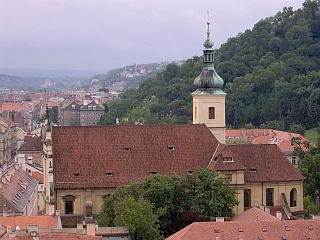 Karmelitány is mentioned by Švejk in the long anecdote about Mr. Jenom, bookbinder Bílek and the thundering fart.
Background
Karmelitány probably refers to kostel Panny Marie Vítězné in Malá Strana, Prague. It was owned by the Carmelitan order until 1784 and again from 1993.
Quote(s) from the novel
[III.4] Naproti karmelitánům v Praze měl, pane obrlajtnant, před lety krám s králíky a jiným ptactvem pan Jenom. Ten si udělal známost s dcerou knihaře Bílka.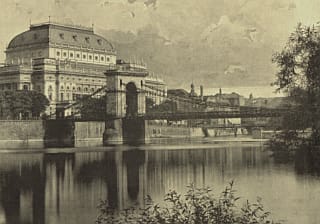 Národní divadlo is mentioned in the anecdote about nadstrážník Hubička. The couple who got arrested in Resslova ulice had walked from the theatre to get some fresh air.
Background
Národní divadlo is the Czech National Theatre. The building was erected in neo-renaissance style in the years 1868-1883 and has become a national symbol.
Quote(s) from the novel
[III.4] Ekvipáž že je dovezla až za Národní divadlo a nyní že se chtí provětrat a bydlí nedaleko, na Moráni, on že je vrchní místodržitelskej rada s chotí.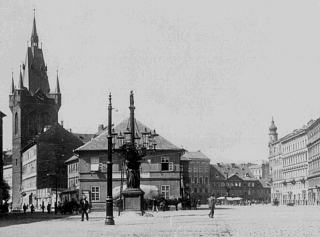 The police station in the middle
Svatý Jindřich where was the editor dressed as a policeman said he was stationed.
Background
Svatý Jindřich probably refers to a police station by kostel Svatého Jindřicha in Prague. There is no police station there today, but in Švejk's lifetime there was a police station at Havlíčkovo náměstí 979/35, an address which is very close to the mentioned church.
Quote(s) from the novel
[III.4] Ta paní už ani plakat nemohla a pan vrchní místodržitelský rada rozčilil se tak, že začal mluvit něco vo sprosťáctví, načež byl zatčen a předveden k nejbližší patrole v rayonu komisařství v Salmově ulici, které řekl převlečený redaktor, aby ten párek odvedli na komisařství, on že je od svatého Jindřicha a byl za služební cestou na Vinohradech, oba dopadl při rušení nočního klidu, při noční rvačce, a zároveň že ještě spáchali přestupek urážky stráže.
III. The famous thrashing

4. Forward March!
---
<! -- content -->