The novel The Good Soldier Švejk refers to a number of institutions and firms, public as private. These have until 15 September 2013 been categorised as 'Places'. This only partly makes sense as this type of entity can not be always be accosiated with fixed geographical point, in the way that for instance cities, montains and rivers can. This new page contains military and civilian institutions (including army units, regiments etc), hotels, public houses, newspapers and magazines.
The line between this page and "Places" is blurred, but the idea with this section is to include entities that are not necessarily located on a fixed spot on earth. Therefore Prague and Vienna will still be found in the "Places" database, because these have constant co-ordinates. On the other hand institutions may change location: K.u.k. Heer and U kalicha are not unequivocal geographical terms so they will from now on appear on this page.
I. In the rear

14. Švejk as military servant to senior lieutenant Lukáš
Stoletá kavárna is mentioned in Švejk's long anecdote that he tells Katz after the latter had played away his servant at cards. The game took place in a "hospoda" behind Stoletá kavárna and at the centre of events was the old plumber Vejvoda.
Background
Stoletá kavárna was a café with address Na Zderaze in Nové Město that existed from some time before 1887, but we don't know with certainty when it started and when it ceased operation. Early adverts show a certain Slavík as landlord. In 1908 these small adverts reveal that the landlord is Antonín Kolář and the address book from 1907 confirms him also as the owner of the building. See also Hospoda za Stoletou kavárnou.
In 1909 the old building was demolished and a new one erected on the premises. Jaroslav Hašek surely knew both versions of the café, but the time of Vejvoda was probably before the rebuild. In 1914 they advertised for a piano player, the place was also a dance- and concert establishment. In 1915 the building changed hands after a bankruptcy and in 1916 it is referred to as the former café. By 1918 it appears to have reopened and in 1920 the landlord was B. Michálek. On the present building the inscription "Stoletá kavárna" is still visible.
Links
Quote from the novel
[1.14.1] "A bylo v banku hodně?" otázal se Švejk klidně, "nebo jste málokdy dělal forhonta? Když nepadá karta, je to velmi špatný, ale někdy je to mizerie, když to jde až příliš dobře. Na Zderaze žil nějakej klempíř Vejvoda a ten hrával vždy mariáš v jedné hospodě za ,Stoletou kavárnou'. Jednou taky, čert mu to napískal, povídá: ,A což abychom si hodili jedníka o pětníček.'
[1.14.1] Kominickej mistr byl už do banku dlužen přes půldruhého miliónu, uhlíř ze Zderazu asi milión, domovník ze Stoletý kavárny 800 000 korun, jeden medik přes dva milióny.
Also written:Century Café en Hundertjähriges kaffeehaus de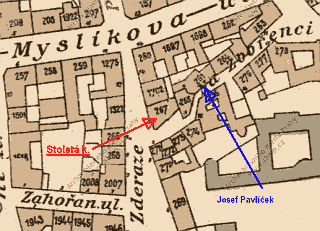 Hospoda za Stoletou kavárnou is mentioned in Švejk's long anecdote that he tells Katz after the latter had played away his servant at cards. The card-play took place in a "hospoda" behind Stoletá kavárna and at the centre was old Vejvoda.
Background
Hospoda za Stoletou kavárnou was most probably the inn that belonged to Josef Pavlíček. The pub was located at Na Zbořenci No. 7, two houses up the street from Stoletá kavárna. Pavlíček also owned the building, he bought it at a bankrupcy auction in 1904.
Links
Quote from the novel
[1.14.1] "A bylo v banku hodně?" otázal se Švejk klidně, "nebo jste málokdy dělal forhonta? Když nepadá karta, je to velmi špatný, ale někdy je to mizerie, když to jde až příliš dobře. Na Zderaze žil nějakej klempíř Vejvoda a ten hrával vždy mariáš v jedné hospodě za ,Stoletou kavárnou'. Jednou taky, čert mu to napískal, povídá: ,A což abychom si hodili jedníka o pětníček.'
Also written:Pub behind the "Century Café" en Kneipe hinter dem "Hundertjährigen Kaffeehaus" de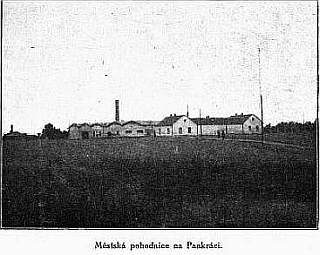 "Prahou tisíciletou z dávna i dneška", Josef Veselý, 1926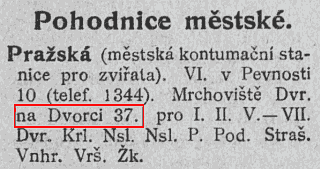 Pohodnice Pankrác is mentioned when the author relates how unfortunate Lukáš had been with his servants. One of them had sold the senior lieutenant´s dog to the knacker at Pankrác.
Background
Pohodnice Pankrác was a "knacker's yard", i.e. a station for disposal of animal carcasses. It was also called a "Thermochemical station". The animal remains were mostly boiled to make fertilizers, bone flour and other residual products. Those were often used as ingredients in soap and glue. The enterprise was also allowed to collect dogs, cats and other stray animals from the eastern bank of the Vltava (a similar enterprise in Břevnov catered for the western bank). Prague city at the time defined stray dogs as "an animal that walked on its without a muzzle". The enterprises were licensed by the city, but privately owned and managed.
The dogs were kept in a quarantine station at Vyšehrad until their owner reported and paid the fine for allowing his dog onto the street "improperly equipped". Dog owners had to claim their pets within three days, otherwise the animal would be destroyed. The carcass processing factory was located on the open fields between Dvorce-Podolí and Pankrác.
Nešvara, a family of knackers
The owner in 1912 was Rudolf Nešvara, so this is likely to be the person the author refers to as pohodný na Pankrác (the knacker at Pankrác). It is said that he was the nightmare of every dog owner in Prague. Nešvara's father Václav also ran the knacker's yard. He died 19 November 1888 at the age of forty, his father Antonín (1814-1894) and mother Marie both survived him. All in all four generations of Nešvaras ran carcass destruction enterprises in Prague, the latest was Rudolf's son Jaromír who was in business as late as during the Second World War.
The yard had existed at least since 1888 and was operating until 1950, and the building lasted until around 1970 when it was demolished to make way for the new seat of Česká Televize.
Egon Erwin Kisch
Bohemia, 27.11.1910 (Egon Erwin Kisch)
Nešrava and his undertaking is also the theme in the story Bei "Antouschek", dem Wasenmeister by the famous "raging reporter" Egon Erwin Kisch. The story was first printed in Bohemia on 27 November 1910, and was the 17th in his series called Prager Streifzüge. The story later appeared in books, including Aus Prager Gassen und Nächten (1912) and Abenteuer in Prag (1920). In the story Kisch describes a tour of the factory, his meeting with Herr Nešvara and he provides a number of details, both technical and also about the history and organisation of such enterprises in Prague. He also tells about his family and that his brother worked there. Kisch writes that the enterprise was relatively odourless, something that is at odds with the complaints that appeared in the inter-war years.
Links
Source: Jaroslav Šerák, Jaromír Pešek, Egon Erwin Kisch, Josef Veselý
Quote from the novel
[1.14.1] Kanárka mořili hladem, jeden sluha angorské kočce vyrazil jedno oko, stájový pinč byl od nich práskán na potkání a nakonec jeden z předchůdců Švejka odvedl chudáka na Pankrác k pohodnému, kde ho dal utratit, nelituje dát ze své kapsy deset korun. Oznámil potom prostě nadporučíkovi, že mu pes utekl na procházce, a druhý den už mašíroval s rotou na cvičiště.
U Štupartů

Štupartská ul. 647/14, Praha I

-

Rudolf Holeček [1910]
U Štupartů is mentioned by Švejk in a conversation with Lukáš when he describes how the cat devoured the Harz canary. I similar episode is said to have taken place in this house but in this case the cat had eaten a parrot.
Background
U Štupartů is a building in Staré Město with a history dating back to the 14th century. The house is named after Peter Stupart von Löwenthal who bought it 20 October 1664. His grandson sold it out of the family on 10 September 1732. In 1910 the house had two street addresses in Štupartská 14 og Jakubská 2 and had many tenants. Amongst them a the pub named after the house, run by Rudolf Holeček. It's address was Štupartská 14.
The original building (surely this was the one mentioned in the novel) was demolished in the autumn of 1911 after much opposition. Klub za starou Prahou and others wanted to preserve it due to its historical and architectural value but they were overruled by the city council. Already in December that year the new building was under construction, was ready the next year and still occupies the premises. The builder was Josef Sochor from Prague VII.
The devil's inn
Another author who wrote about U Štupartů was Alois Jirásek, Jaroslav Hašek's teacher at the gymnasium in Žitná ulice. The novel "Temno" (Darkness) was first printed as a serial in Zlatá Praha and was published as a book in1914. It mentions the pub U Štupartů opposite the church Sv. Jakub as čertová krčma (a devil's inn). This historical novel is set at the beginning of the 18th century.
Links
Quote from the novel
[1.14.3] V domě ,U Štupartů' sežrala před léty kočka dokonce papouška, poněvadž se jí posmíval a mňoukal po ní. Voni ale mají kočky tuhej život. Jestli poručíte, pane obrlajtnant, abych ji vodpravil, tak ji budu muset trhnout mezi dveřmi, jinak nedodělá."
Also written:Beim Stupart Reiner

Břetislav Hůla, "Vysvětlíky". © LA-PNP
Armin von Barheim was kennel in Bavaria. It enters the story when Švejk tells Lukáš about the finer details of dog breeding, and that one sometimes has to forge the pedigrees, because dog owners don't want mongrel dogs.
Background
Armin von Barheim is an institution which existence remains unidentified. No Bavarian kennel Armin von Barheim has been found, nor any kennel carrying this name anywhere in the world. Generic searches (Google and Wikipedia 2018) provide no meaningful hits, neither on geography nor people. Břetislav Hůla does list the kennel in his explanations to the novel (1951) but doesn't provide any complimentary details.
Searches in the Bavarian, Austrian and Czech digital newspaper collections do however show up a few hits, but nothing that is related to dog breeding in Bavaria or anywhere else. All this indicates that the name Barheim is either invented or misspelt.
Quote from the novel
[1.14.3] A každej hned chtěl rodokmen, tak jsem si musel dát rodokmeny natisknout a dělat z nějakýho košířskýho voříška, kerej se narodil v cihelně, nejčistokrevnějšího šlechtice z bavorskýho psince Armin von Barheim.
Kronika světové války is mentioned when Švejk follows Katy to the barracks where Lukáš serves. There he he has a chat with a soldier about the events of the war. He has an expression as stupid as can be seen on a picture in Kronika světové války where the Austrian successor to the throne appears in a conversation with two pilots who have shot down a Russian plane.
Background
Kronika světové války was not a book like the context here indicates, but sub-titles in the booklet series Světová válka slovem i obrazem (The World War in Words and Pictures) issued by the publisher Emil Šolc in Karlín from October 1914 onwards. They were published every two weeks and were later collected in six large volumes. Editor in chief was Adolf Srb who was assisted by a group of experts. The series is richly illustrated, is very detailed and is generally of high quality. In total it contains nearly 2000 pages.
Emil Šolc was also publisher of the weekly Český svět who printed the eventually well known picture of Jaroslav Hašek and Zdeněk Matěj Kuděj in female bathing gear. Šolc originated from Telč where he also acted as a publisher. In 1913 he bought the bookshop and publishing house of Rudolf Storch in Karlín. In 1919 the publishing house was merged with Nakladatelství Šimáček.
Fragments used in the novel
It is obvious that Jaroslav Hašek used some of the instalments/books from the series as a source when he wrote the novel. The quote from Kronika světove války regarding the photo of the heir to the throne Karl Franz Joseph is copied letter by letter from volume II, page 505. It should be added that these brief daily reports appear also in peridicals like Národní politika and Roskvět, but with a slighly different spelling. Therefore everything indicates that the author used The World War in pictures and words, and not any of the others.
In chapter 14 fragments from The World War in Pictures and Words appear repeatedly. The first example is the Sultan awarding the German Emperor the war medal, then general Kusmanek who arrived in Kiev. The longest direct quote is however the sub-title of the picture of the heir to the throne.
Conversation between Lukáš and Wendler
Then follows the conversation between Lukáš and hop trader Wendler when the latter arrives to fetch his wife. Here the officer list a number of leading Turkish politicians and high ranking officers, and also three German officers serving the Ottoman Empire. Wendler answers with a tirade about the hopeless situation for the hop business, and a number of spots at the front Belgium and France appear. He assigns a brewery to most of them and the names are all found in "Chronicle"'s summary of war events from 24 March to 2 April 1915. Some additional phrases are recognizable but adapted to the novel's context. These place names, persons and text fragments are also found on pages 505 to 507 of The World War in Pictures and Words. See the overview below for details.
Světová válka obrazem i slovem, s. 505-507
Links
Quote from the novel
[1.14.4] Jedině když již stáli u kasáren, Švejk vyzval mladou dámu, aby počkala, a dal se do hovoru s vojáky ve vratech o vojně, z čehož musela mít mladá dáma náramnou radost, poněvadž chodila nervosně po chodníku a tvářila se velice nešťastně, když viděla, že Švejk pokračuje ve svých výkladech s tak hloupým výrazem, jaký bylo možno vidět též na fotografii uveřejněné v té době v "Kronice světové války": "Rakouský následník trůnu rozmlouvá se dvěma letci, sestřelivšími ruský aeroplán".
Also written:Chronice of the World War en Verdskrigens krønike no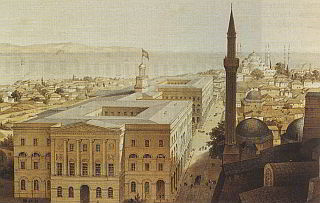 "Dünden Bugüne İstanbul Ansiklopedisi" 8 vol, İstanbul 1993-1995.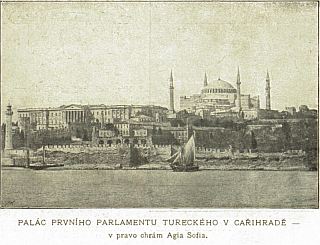 Světozor, 15.1.1909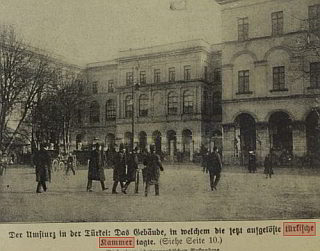 Das interessante Blatt, 15.8.1912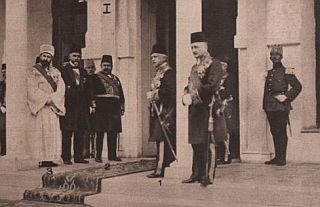 Das interessante Blatt, 2.12.1915
The Turkish Parliament is mentioned by Lukáš when he tells Wendler that the chairman of the Turkish parliament, Hali Bey, has arrived in Vienna.
Background
The Turkish Parliament (or General Assembly - tr. Meclis-i Umûmî) was opened in 1876 and functioned until 1920. It was the first attempt of a representative system of government in the Ottoman Empire. It was however dissolved by the Sultan already in 1878 and only revived in 1908 after the Young Turk Revolution.
The assembly consisted of two chambers, the Upper Chamber (Meclis-i Âyân) and the Lower Chamber (Meclis-i Mebusân). The Lower Chambers was made up of elected representatives, the Upper Chamber had its members picked by the Sultan.
At the election in 1908 several parties were represented, with the Committee for Unity and Progress (Young Turks) as the largest group. Many nationalities had seats in the parliament: Turks, Arabs, Armenians, Albanians, Greeks, Slavs, Jews etc.
The 1912 election was however won by the Committee with an overwhelming majority, after an election campaign where democratic rules were pushed to the side. The ethnic composition of the house remained much the same. After this election Halil Bey, the chairman of the Committee, was elected president of the lower chamber.
In 1914 new elections were held, but after the losses in the Balkan Wars the Committee had in 1913 taken power through a coup and in 1914 they were the only party participating. On 13 May 1914 Emir Ali Paşa and Hüseyin Cahit Bey were elected vice presidents of the lower chamber. Halil Bey was at the same time re-elected as speaker of the house with 180 of the 181 votes.
The last ever election to the parliament took place in 1919.
Hans-Peter Laqueur
Initialy (i.e. 1876) it assembled in the building designed for the Darülfünun, the predecessor of the University of Istanbul, but never used for that purpose. After the reopening in 1908 parliament assembled in Çırağan Sarayı on the Bosphorus, between Beşiktaş and Ortaköy (now Kempinski Çirağan Palace Hotel), which unfortunately burnt down two months later. After that the sessions were held in the Darülfünun building near Sultanahmet again.
Links
Quote from the novel
[1.14.4] "Turci se drží dobře," odpověděl nadporučík, uváděje ho opět ke stolu, "předseda turecké sněmovny Hali bej a Ali bej přijeli do Vídně.
Also written:Turecká sněmovná cz Türkisches Parlament de det tyrkiske parlamentet nn Meclis-i Umûmî tr
I. In the rear

14. Švejk as military servant to senior lieutenant Lukáš
---
<! -- content -->