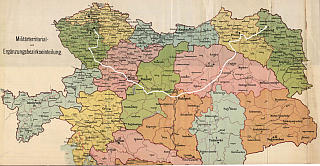 The Fateful Adventures of the Good Soldier Švejk is a novel which contains a wealth of geographical references - either directly through the plot, in dialogues or in the authors own observations. Jaroslav Hašek was himself unusually well travelled and had a photographic memory of geographical (and other) details. It is evident that he put great emphasis on this: 8 of the 27 chapter headlines in The Good Soldier Švejk contain place names.
This web site will in due course contain a full overview of all the geographical references in the novel; from Prague in the introduction to Klimontów in the unfinished Book Four. Countries, cities, towns, villages, mountains, oceans, lakes, rivers, islands, buildings are included. Note that from 14 September 2013, institutions (including pubs) have been moved to the new 'Institutions' page. The list is sorted according to the order in which the names appear through the novel. The chapter headlines are from Zenny Sadlon's recent translation (1999-2008) and will in most cases differ from Cecil Parrott's translation from 1973.
The quotes in Czech are copied from the on-line version of The Good Soldier Švejk: provided by Jaroslav Šerák and contain links to the relevant chapter. The toolbar has links for direct access to Wikipedia, Google maps, Google search, svejkmuseum.cz and the novel on-line.
The names are coloured according to their role in the novel, illustrated by these examples: Sanok a location where the plot takes place, Dubno mentioned in the narrative, Zagreb part of a dialogue, and Pakoměřice mentioned in an anecdote.
II. At the front

4. New afflictions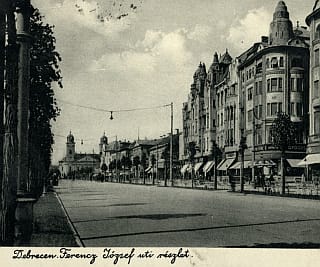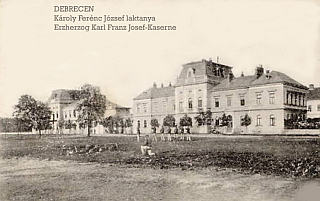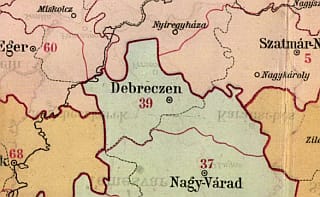 Debrecen is mentioned in the article in Pester Lloyd after the scandal about the letter to Etelka Kakonyi has broken. It refers to the lamentable behaviour of Czech soldiers from regiment N who were stationed there.
Further, deputy Barabás refers to the regiment's standard at the front. What happened to it we however dont' know as what followed was removed by censorship before it reached the columns of Pester Lloyd.
Background
Debrecen is the second largest city in Hungary, situated in the eastern part of the country, near the border with Romania. The number of inhabitants is currently (2022) around 200,000.
Debrecen (at the time written Debreczen) was an important garrison city both for k.u.k. Heer and Honvéd. From 1915 the replacement battallion of Infanterieregiment Nr. 75 was garrisoned here, so the city did had a Czech footprint. It is not known where Infanterieregiment Nr. 39, the city's Hausregiment, was transferred to.
The description of the unnamed Czech regiment N and it's standard indicates that Barabas has Infanterieregiment Nr. 28 in mind. This regiment actually had their standard taken away from them in April 1915. Their replacement battalion was however garrisoned in Szeged and not in Debrecen.
Turista Aratáš
Debrecen is also mentioned in the story Turista Aratáš that Hašek had published in Venkov in 1911[a]. The main protagonist, the quarrelsome tourist Sandor Aratas was on a trip to Venice. He was a land-owner from the city.
Demography
According to the 1910 census Debrecen had 92 729 inhabitants. The judicial district was Debreczen, administratively it reported to vármegye Máramaros.
Military
In accordance with the recruitment districts infantrymen from Debrecen were usually assigned to Infanterieregiment Nr. 39 (Debreczen) or Honvédinfanterieregiment Nr. 3 (Debreczen). Debrecen also housed Honvéd-Husarenregiment Nr. 2 and brigades of both infantry and cavalry.
Quote(s) from the novel
[II.4] Upozornili jsme již jednou na řádění pluku No ... v Debrecíně, jehož výtržnosti byly přetřásány i odsouzeny pešťskou sněmovnou a jehož plukovní prapor později na frontě byl - Konfiskováno
Also written:Debrecín cz Debrezin de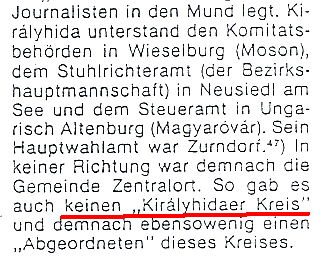 Királyhida district is mentioned by Sopronyi Napló where it was stated that the reprentative from the Királyhida district was going to raise an interpellation in the Pest Parlament regarding the scandal with Švejk and Sappeur Vodička. The representative for the districts was some deputy Savanyú.
Background
Királyhida district (Királyhidai járás) is no doubt a fictional entity. There was no such district, be it electoral, judicial or administrative. The judicial district was Nezsider (now Neusiedl am See) and the political district Moson. The electoral constituency that Királyhida belonged to was Zurány (now Zurndorf)[a]. Nor was it represented by any deputy Savanyú. Its MP from 1910 to 1918 was Károly Cserny (1863-1933)[b].
Quote(s) from the novel
[II.4] Jest to známý český šovinista Lükáš, o jehož řádění bude podána interpelace naším poslancem Gézou Savanyú, který zastupuje okres királyhidský."
Also written:okres Királyhida cz Királyhidaer Kreis de Királyhida krets nn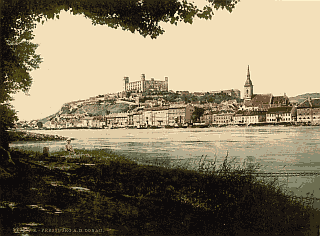 Pressburg is mentioned because the newspapers in the city wrote about the scandal that erupted in Királyhida because of the amorous letter Oberleutnant Lukáš wrote to Etelka Kakonyi.
Background
Pressburg (hun. Pozsony) was in 1915 the capital of Upper Hungary, and has since 1919 been known as Bratislava. At the time more than 80 per cent of the population reported Hungarian or German as their spoken language. Pressburg was the capital of Hungary from 1541 until 1784, and the Hungarian parliament held its sittings here until 1848. The city is located by the Danube just a few miles from Bruck and is the capital of modern Slovakia.
From Karlín to Bratislava in 365 days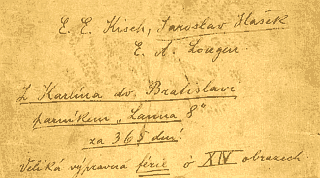 This is a play that was written in 1921, presumably close to the end of the year. It is a farcical story about a roundabout journey from Prague to Bratislava with the steamer Lanna, along the waterways of Europe. The play was first advertised in Tribuna, Prager Presse and Rudé právo on 30 Desember 1921 and the authors were literally: E.E. Kisch, Rossenvelt pres. U.S.A., J. Hašek, Jules Werenes, E.A. Longen. It was performed at the theatre Adria, the same stage that from 1 November 1921 had hosted Emil Artur Longen's theatre version of The Good Soldier Švejk with Longen as director. In later adverts "Werenes"" and "Rossenvelt"" were for obvious reasons left out.
The manuscript reveals that the script was approved by the police on 29 Desember 1921 and that the censors had some objetions! Still, there were no major changes. Emil Artur Longen, Jaroslav Hašek and Egon Erwin Kisch are listed as authors[x].
Two names that are familiar from The Good Soldier Švejk feature prominently: Offiziersdiener Mikulášek and pubkeeper Rampa. Incidently these names appeared in the novel around the time when the play was written. In the play Mikulášek is a stoker and main character whereas Rampa is described much in the same way as in the novel. One of the scenes involves Mikulášek being drunk in Rampa's pub!
Demography
According to the 1910 census Pressburg had 78 200 inhabitants. The judicial district was Pozsony, administratively it reported to vármegye Pozsony.
Military
In accordance with the recruitment districts infantrymen from Pressburg were usually assigned to Infanterieregiment Nr. 60 (Eger) or Honvédinfanterieregiment Nr. 10 (Eger). Moreover, Pozsony was an important garrison city and seat of 5. Korpskommando.
Quote(s) from the novel
[II.4] "Stejně líbezně, pane nadporučíku," ozval se plukovník Schröder, "píše o vás též týdeník v Királyhidě a potom prešburské listy. To vás ale už nebude zajímat, poněvadž je to na jedno kopyto. Politicky dá se to odůvodnit, poněvadž my Rakušané, ať jsme Němci, nebo Češi, jsme proti Maďarům přece jen ještě hodně... Rozumíte mně, pane nadporučíku.
Also written:Prešburk cz Pozsony hu Prešporok sk
Literature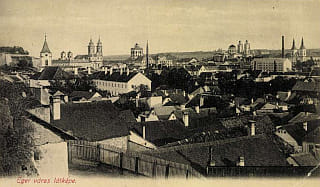 Eger is mentioned by Oberst Schröder when he boasts to Oberleutnant Lukáš about his adventures with Hungarian ladies when he was on a three week measureing course here in his younger years.
Eger then reappears in [III.2] when there is talk of damaged material from the offensive "beyond Lwów". From this passage it even seems that the route of the march battalion was planned through Eger, despite it not being located on the railway from Budapest to Sanok.
Apart from the geographical inconsistency there is a time jump involved. Although the stay in Budapest explicitly takes place around the time of Italy's entry in the war on 23 May 1915, any offensive east of Lwów could only have been after 22 June, the day when the city was recaptured by the Central Powers.
Background
Eger is a town in northern Hungary, best known for its red wine and it's well-preserved historical centre. At the time of writing (2023) it has around 54,000 inhabitants and is the centre of Heves vármegye (county). During the times of the Dual Monarchy it was a garrison town so it is conceivable that military telemetry courses were held here.
Demography
According to the 1910 census Eger had 28 052 inhabitants. The judicial district was Eger, administratively it reported to vármegye Heves.
Military
In accordance with the recruitment districts infantrymen from Eger were usually assigned to Infanterieregiment Nr. 60 (Eger) or Honvédinfanterieregiment Nr. 10 (Eger).
Quote(s) from the novel
[II.4] "Neříkejte, pane nadporučíku, že jste teprve začal korespondovat. Já, když jsem byl ve vašich letech, seděl jsem v Jágru na měřických kursech tři neděle, a měl jste vidět, jak jsem ty celé tři neděle nic jiného nedělal než spal s Maďarkami. Každý den s jinou. Mladé, svobodné, starší, vdané, jak to právě přišlo, žehlil jsem tak důkladně, že když jsem se vrátil k regimentu, sotva jsem pletl nohama.
[III.1] Také se rozšiřovalo po nádraží, že u Jágru srazil se jeden sanitní vlak s nemocnými a raněnými s vlakem vezoucím dělostřelectvo.
Also written:Erlau de Jáger sk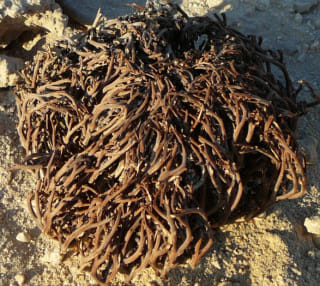 Jericho is mentioned by Švejk, although indirectly through the expression Rose of Jericho. The servant of painter Panuška explained to an old woman how to create a rose of Jericho. The recipe was to place dry cow cake, water it, and then it would spring to life.
Background
Jericho is a historic town in the Palestine, commonly regarded the oldest city in the world. It is also on the lowest altitude of any city, 250 metres below sea level.
The Rose of Jericho
Rose of Jericho is a name that is associated with two plant species that predominantly grow in dry parts of the world. They are also called resurrection plants as they are capable of surviving long periods of draught and spring to life when rain arrives[a].
Anastatica hierochuntica grows in the Middle East and North Africa and is also known as the "true rose of Jericho". Selaginella lepidophylla is native to North America and is also known as "the false rose of Jericho". In the context of The Good Soldier Švejk one must however assume that Švejk has the former in mind.
It is assumed that the connection with Jericho actually is the word "resurrection". The city that was repeatedly destroyed but rose from the ashes every time.
Quote(s) from the novel
[II.4] "... potom dostaneš pár facek," ozval se starý sapér Vodička, "co si ten chlap všechno nevymyslí. Člověk má starosti s divisním soudem, a von chlap mizerná mně včera, když nás vedli k vejslechu, vykládal, co je to růže z Jericha."
"To ale nebyla moje slova, to vykládal sluha malíře Panušky Matěj jedné staré bábě, když se ho ptala, jak vypadá růže z Jericha. Tak jí povídal: ,Vemte suchý kravský hovno, dejte ho na talíř, polejte vodou a vono se vám krásně zazelená, a to je růže z Jericha,"' bránil se Švejk, "já jsem si tu blbost nevymyslil a přeci jsme si vo něčem museli povídat, když jdeme k vejslechu. Já jsem tě chtěl, Vodičko, jen potěšit..."
Also written:Ārīḥā ar Jericho cz Jericho de
Literature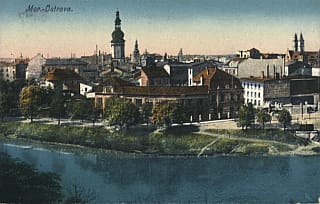 Moravská Ostrava is mentioned in an anecdote by Švejk, where he illustrates the importance of never admitting to anything in court. It is also revealed that this is one of the places where Švejk had worked.
Background
Moravská Ostrava was the Moravian part of current Ostrava, an important industrial and mining town that is located both in Moravia and Silesia. Modern Ostrava was created in 1924 by the merging of 7 municipalities, the largest of which was Moravská Ostrava itself.
There is no indication that Jaroslav Hašek ever visited Ostrava and the city is only mentioned once more in his entire literary output[a].
Demography
According to the 1910 census Moravská Ostrava had 36 754 inhabitants. The judicial district was okres Moravská Ostrava, administratively it reported to hejtmanství Moravská Ostrava.
Military
In accordance with the recruitment districts infantrymen from Moravská Ostrava were usually assigned to Infanterieregiment Nr. 100 (Teschen) or k.k. Landwehrinfanterieregiment Nr. 31 (Teschen).
Quote(s) from the novel
[II.4] Když jsem jednou pracoval v Mor. Ostravě, tak tam byl takovejhle případ: Jeden horník ztřískal tam inženýra mezi čtyřma vočima, takže to nikdo neviděl. A advokát, kerej ho hájil, pořád mu říkal, aby zapíral, že se mu nemůže nic stát, ale předseda senátu mu pořád klad na srdce, že přiznání je polehčující okolností, ale ten ved neustále svou, že se přiznat nemůže, tak byl osvobozenej, poněvadž dokázal svoje alibi. V ten samej den byl v Brně..."
Also written:Mährisch Ostrau de Morawska Ostrawa pl
Literature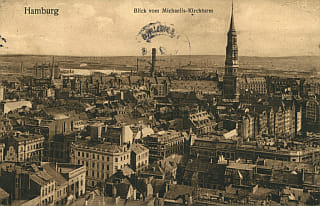 Hamburg is mentioned in an anecdote by Švejk, where he explains the advantages of feigning retardedness. This story is about an intelligent professor of economy who claimed a tragic background and who subsequently got away with desertion.
Background
Hamburg is the second-largest city in Germany and the seventh-largest city in the European Union. The city is home to approximately 1.8 million people and has one of the largest ports in Europe. It is an important centre for trade and commerce.
Hašek and Hamburg
Hamburg is mentioned in several stories by Jaroslav Hašek although he likey never set foot in the city. One example is Gott strafe England where he mentions some merchant Feuselen who is said to have invented the propaganda slogan "God punish England" after the British had confiscated 10 sacks of coffee from him. In the same story he mentions Spatenbierhalle and the tobacco factory J.F. Schaffer[a]. None of these three entities are known to have existed.
In other stories Hašek mentions the city's famous zoo and animal trader Hagenbeck.
Quote(s) from the novel
[II.4] Že jednou se probudil v Hamburku a podruhý zas v Londýně, a že nevěděl, jak se tam dostal. Otec že byl alkoholik a zemřel sebevraždou před jeho narozením, matka že byla prostitutkou a opíjela se a zemřela na delirium.
Also written:Hamburk cz
Literature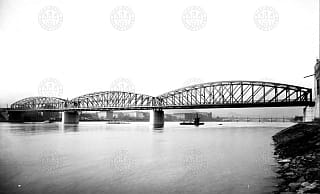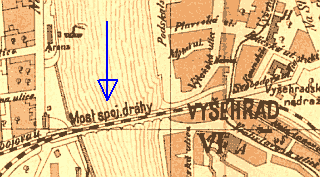 Vyšehrad railway bridge is mentioned by Švejk in his long anecdote av Hauptwache about a professor of economy who claimed to have suffered an interminable sequence of family tragedies. On of them concerned his brother who had thrown himself off this bridge.
Background
Vyšehrad railway bridge refers to a bridge over Vltava by Vyšehrad. The bridge was opened in 1872, reconstructed in 1901, and connects Nusle with Smíchov. It is still (2023) in use and was recently renovated.
The bridge does not have an official name but maps have throughout the years come up with various terms.
Quote(s) from the novel
[II.4] Mladší sestra že se utopila, starší že se vrhla pod vlak, bratr že skočíl z železničního mostu na Vyšehradě, dědeček že zavraždil svou ženu a polil se petrolejem a zapálil se, ...
Also written:Vyšehradský železniční most cz Vyšehrad jernbanebru nn
Literature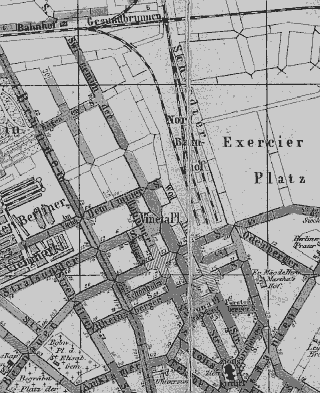 Berlin Westbahnhof is mentioned in the description of Auditor Ruller, judge advocate at Brucker Lager, who is looking at drawings of male and female genitals, recorded at Berlin West railway station toilets, reproduced in a book by Fr. S. Kraus called Forschungen zur Entwicklungsgeschichte der geschlechtlichen Moral.
Background
Berlin Westbahnhof was according to the author a railway station in Berlin although a station carrying this name has never existed in the city.
Studying Krauss' Anthropophyteia, the book that Hašek refers to in the novel gives no further indication. If anything it seems that the author composed this passage by picking fragments from volume VII., then twisted them for literary purposes. Any specific railway station in Berlin has not been possible to identify in Anthropophyteia[a].
Reiner's correction
Grete Reiner's translation of the novel into German provides a clue though. Here it appears as Berlin Nordbahnhof so she presumably made an attempt to correct the author.
Nordbahnhof
This was one of the major railway stations in Berlin. Opened 1 Oktober 1877, in the beginning only for freight, it connected the capital to the north-eastern parts of Germany, mainly Stettin. This was probably the station at which Jaroslav Hašek and his wife arrived in December 1920, on their way from Russia to Czechoslovakia.
Until 1950 the station was however named Stettiner Bahnhof so this negates the hypothesis that this was the station that Reiner had in mind. On the other hand, there was nearby a smaller station called Nordbahnhof, later renamed Eberswalder Straße.
Quote(s) from the novel
[II.4] Zadíval se na reprodukci naivních kreseb mužského i ženského pohlavního ústroje s přiléhajícími verši, které objevil učenec Fr. S. Krause na záchodcích berlínského Západního nádraží, takže neobrátil pozornost na ty, kteří vstoupili.
Sources: Hans-Peter Laqueur
Also written:Berlin West Railway Station en Berlín západní nádraží cz Berlin Westbahnhof de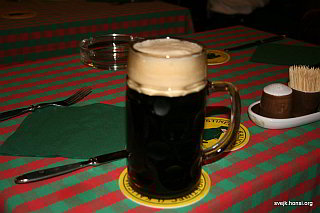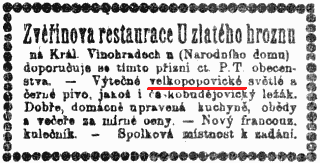 Velké Popovice is mentioned by Švejk during the famous farewell scene in Királyhida. Sappeur Vodička asks what beer they have at U kalicha, and Švejk answers: "Velkopopovický".
Background
Velké Popovice is a town on the southern perimeters of Prague, known for its brewery. Velkopopovický beer is reported to have been a favourite of Jaroslav Hašek. The black variety is still served at U kalicha as it seems to have been also when Švejk frequented the pub. In contemporary Praha U černého vola (At the Black Ox) is a popular hospoda that pulls the pale variation in large quantities.
Big brewer
The brewery was established in 1871 by the business man and politician Franz Ringhoffer (1817-1873) and in 1874 production started. The breweries was modern for it's time and soon became one of the largest in Bohemia. In 1907 they ranked 4th with a production of more than 175,000 hectolitres[a]. The alternative name Kozel was used from the beginning and is still synonymous with beer from Velké Popovice.
War time production volumes
Here are some numbers which shows that hop trader Wendler had all reason to be worried. The production volumes at Velké Popovice from 1913 until 1919 were (in 1000 hectolitres): 230, 199, 181, 130, 37, 25, 38[b]. These figures put the term "economic crisis" into perspective. Production didn't reach pre-war volumes until 1924.
Pivovary.info
Pro velkopopovický pivovar znamenaly roky 1916 až 1918 pokles výroby až na osminu předválečného výstavu. Ekonomická ztráta však podnik vzhledem k vyšší válečné a poválečné výrobě Ringhofferovy vagónky neohrozila. Uvolnění trhu v roce 1921 umožnilo prudký nárůst výroby a již o tři roky později dosáhla produkce pivovaru 142 000 hl piva, čímž překonala nejúspěšnější roky předválečné.
Quote(s) from the novel
[II.4] Potom se vzdálili a bylo slyšet zas za hodnou chvíli za rohem z druhé řady baráků hlas Vodičky: "Švejku, Švejku, jaký mají pivo ,U kalicha'?" A jako ozvěna ozvala se Švejkova odpověď: "Velkopopovický." "Já myslel, že smíchovský," volal z dálky sapér Vodička. "Mají tam taky holky," křičel Švejk. "Tedy po válce v šest hodin večer," křičel zezdola Vodička.
Also written:Groß Popowitz de
Literature
II. At the front

4. New afflictions
---